Bill Ayers, anti-war activist, author of Teaching For Social Justice: Goodbye to politics as arid, dry, self-referencing and self-satisfied.
I resolve to create new spaces overflowing with life, crackling with the surprising and contradictory harmonies of love, stunning in their embodied hope for a better world.
Goodbye to, star wars and inner wars.  Goodbye to deference, didacticism, ego and the need to always be right.  Goodbye to complacency in a heartless world. Goodbye to prisons and border guards and walls—whether in Palestine or in Texas—and goodbye to quarantines, deletions, and closures.  Goodbye to all that.

I resolve to step into the unknown, to jump off the edge, to dance the dialectic; I resolve to welcome the new and the now, to learn how to live again and how to love anew; I resolve to nurture relentless curiosity, simple acts of kindness, the vast complexity of humanity, the wild unruly convergence, the poetics of resistance, and the wonder of it all.  I resolve to embrace a new world in the making, planetary peace and inner peace, and I resolve, each day in every way, to vote for love—all kinds of love for all kinds of people in all kinds of circumstances and situations.
Janet Fitch, novelist, author of White Oleander and Paint It Black:
1. Think only new ideas
I'm sick of my ideas.  I've been on this planet far too goddamn long and I'm sick of everything I'm carrying around in my head. My ideas about the way to live, the way to be in the world, what people should do.  In 2009, whenever I have an idea–in the progress of a conversation, for example–that isn't fresh as the newborn sun, I'm going to keep my mouth shut until I think of something new to say. I'm going to be on the hunt for a new philosophy of life.
2.  Abandon storytelling
Related to number 1.  I'm sick of my fucking life.  I'm sick of dragging out a bunch of old stories to explain myself when I meet someone new and I want to "reveal myself."  In 2009, I'm going to stop telling stories I've told before. Either I'm going to dig around for something I never thought of telling, or I'm just going to start lying. Making up a damn good story that whether or not  it's factual, will at least be fresh and interesting to me.
3. Read books I hate
I had a funny experience a couple of years ago.  I met a woman taking an MFA at Antioch, who worked with the writer Rob Roberge. Evidently Rob had them keep a book journal, not the usual 'book report'–what they liked and didn't like about the novel in question–but entries called 'annotations,' which were evaluations of how the book in question affected the student's own writing.
I thought that was just brilliant, and tried it out. Funny enough, the books that affected my writing in the most interesting ways were often books I didn't like at all.  The books I liked didn't have nearly the stimulating effect. But the books I didn't like!  What a treasury of passionate reactions, possibilities and resonances.  What wonderful arguments I had with the author! What inspiration.
Happy 2009!  Make it new.
Lorelei Lee, writer, porn performer: My boyfriend said my resolution should be to eat three meals a day and give more blowjobs.  Last year I resolved to read a book every week, but I failed.  I suppose this year I resolve to graduate from college, finally.  And to learn to say no instead of always saying yes and then flaking out later.  And to improve my bondage skills.
Daniel Handler, novelist, aka Lemony Snicket: There's a Perfect Triangle of geography and activity in San Francisco, right in North Beach: First you have espresso at Cafe Trieste, then when you're all jumped up you buy books at City Lights, and then you jaywalk to Tosca and have a drink and look over your books.  I've only done this a few times and it's glorious, plus it supports local industry, indie culture and liquor, three of the best things in the world.  So my resolution is to do the Perfect Triangle eight times in 09, and to keep me honest I'll announce each of the eight times here at the Rumpus and everyone's invited.  Starting time will be 4 PM on a weekday, because this sort of thing isn't fun unless there's something, ie work, that you really should be doing instead.  People who show up for for the first seven times will get free drinks on the eighth, bought by me, your resolutionary.  So let it be posted, so let it be done!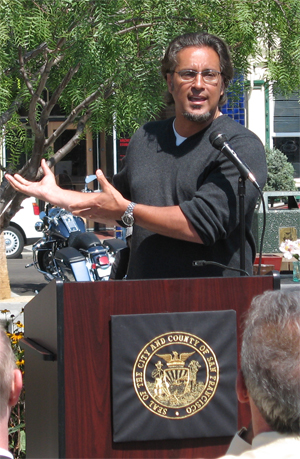 Ross Mirkarimi, San Francisco Supervisor District 5 : Resolution-wise: this country is hurting and so is San Francisco – I aim to support and intiate bold, not incremental nor unwise, actions that help stop people from falling off the "cliff"; and more visits to the woods – it's good to get lost.
Nato Green, comedian, Jew: My New Year's Resolutions are to get back in the swing of hating the spineless curs called Democrats after eight years of lazily mocking Dubya and the fanatical right, to take it to the streets whenever possible, and to have more panache, élan, and verve, but less ennui and anomie. Also, to make my own bacon.
Ellen Sussman, novelist, editor of Dirty Words: My new year's resolutions: to keep secrets, to spend more time reading by the fire with my guy, to take more risks in my writing, to play in a poker tournament by the end of the year.
Eli Horowitz, publisher of McSweeney's: 1. Play basketball twice a week 2. A little bit more karoake 3. Microloans! (kiva.org) 4. Respect my to-do lists 5. Be intentional
Rodes Fishburne, author of Going To See The Elephant: Rodes Fishburne's 2009 New Year's Resolution is to make his very own CROQUENBUSH, and then eat it in one sitting.
Katie Crouch, author of Girls In Trucks: 1. No more relationships with commitment phobes, freaks or depressives. 2. Seriously this time. 3. Finish book. 4. More yoga. 5. Half marathon. 6. Leave the continent for at least two weeks. 7. Less wine? 8. Or not. 9. Call good friends like Steve back more promptly. 10. Pay off student loans. 11. Learn the Moonlight Sonata, no sheet music. 12. Drive less. (Both for planet and the safety of others.) 13. One semicolon per chapter, tops. 14. More reading. Older books. 15. Talk less about my dog in awkward social settings. 16. Spend less time in awkward social settings. (More time with dog.) 17. Make something in the neighborhood better. 18. Hang out with Mom and Dad more. 19. Figure out the money stuff. 20. More purple! 21. I don't know. 22. Just to be clear, once more about the commitment phobes, freaks and depressives…. 23. Boost self-esteem by rewarding self for small tasks, starting with a grilled cheese sandwich for finishing this bullshit list.
Addendum: Wait. "No commitment phobes, freaks or depressives" rules out all potential boyfriends with anything interesting to say. I do not want to talk only about Gossip Girl all the time.
Revision: No commitment phobes, freaks, AND depressives. Very doable. Still an improvement.
INTERNAL:
Ainsley Drew: Eat less Splenda. Don't hit on (m)any sorority girls. Learn primal scream therapy.
Julie Greicius: Vanquish internal censor. Master pyrokinesis. Avoid haystacks and stockpiled pistachios. Stop, drop and play with my kids more. Sprint more. Slow down more when not running. Lollygag. Snorkel. Sleep.
Stephen Elliott: Wait a moment before jumping into things, spend more time with my foster family, get Morning Coffee done at least twelve hours before the fucking thing goes live. Listen, commit, exercise, and let Ben Peterson win at Liar's Dice sometimes.
Antonino D'Ambrosio: 1. In the words of the late Nobel-prize playwright Harold Pinter:  "Seize the responsibility to pursue the role as a citizen of the world in which I live (and) insist upon taking responsibility." 2. Always be creating. 3. Remember. 4. Forward never backwards.
Michelle Orange: More eye contact in '09.
**
See Also: Reading In The New Year
---