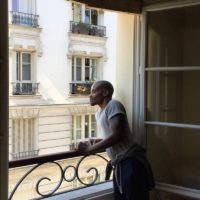 Rumpus Original Poetry: Three Poems by Delano Burrowes
When I'm Not Being Black
When I'm not being black, I'm waking up. Waking up ain't easy cause sometimes, some lives, it ain't an easy thing to be awake cause you can't go back to sleep again, you resent those who're still asleep, and resent yourself for being woke when you want to be sleep.
When I'm not being black, I'm eating. Therapist says I have childhood trauma shit — that's where the addiction stuff comes from —  but I think I was just cuckoo for Cocoa Puffs so I'll keep on eating chemically flavored chocolate puffed corn as a solution to a problem that was a solution.
When I'm not being black, I'm at the gym getting a body that'll make me happier, more confident, more dateable, more fuckable, more lovable, more idontwanttokeeptalkingaboutchildhoodshitintherapy-able.
When I'm not being black, I'm creating. I paint and sculpt a me to display. The real me is locked away in an attic with milky white skin. I lost the key to the attic while relapsing on ketamine in a sex club in Sao Paulo, and can't find the real me. Reward if found.
When I'm not being black, I go to a place where Everybody Knows My Name. The truth is Everybody thinks they know my name but I answer to whatever name they call me so Everybody doesn't feel bad about forgetting my name. None of those fuckers knows my real name cause I don't share real shit with them and can't stand most of em, anyway.
When I'm not being black, I wash rinse repeat. Don't have any hair cause I used to beg my mother to let the barber shave it off cause they all wanted to pat my kinky curls in school. Then I'd watch them out of the corner of my eye as they wiped their hand on their pants. They always wiped their hand. I shaved that shit off as soon as I turned 18. But I'm gonna keep on washing, rinsing and repeating cause I wanna smile like 1970s Farrah Fawcett on a skateboard.
When I'm not being black, I'm rollin down the street sippin on gin and juice. Nah, I'm sober. I don't sip on anything anymore. That's why I'm always fucking awake.
A Letter
Dear lady on the street,
I know nobody says lady anymore, and I'm sorry if that's not how you choose to be addressed. I'm only saying lady because that's how I was brought up, and it takes a long while for habits to catch up to how I think I think.
I'm writing this letter to ask if you remember me. Did you see me when you walked past me, and your purse was pulled closer to your white body — a body that belongs to you, but you think belongs to the world? It wasn't even a particularly nice purse, and yeah I know that's beside the point, but can you tell me what is the point?
What was that look in your eyes? I wish I'd taken a photo. I'd pull it out of my wallet at Park Slope dinner parties, when the host pauses from boasting about his ironically named preschool daughter reading Proust to go on a rant against the man in the White House. I want to show him, the host, that terrorism exists everywhere. I'll open my wallet to show them all, but the photo will be blank. The others will stare at me in a silence they call awkward, and I just call silence.
I'll want to tell all of them to go look in the mirror. Know that those are the faces that anger black people. Their faces. I won't, though. I'll leave the party, get on the 2 train and stare at my New Yorker while the subway car fills up and the seat next to me remains empty.  I'm not actually reading it. I'm screaming. So loud that I touch my ears to see if they're bleeding. They're not. They're fine. I'm fine. Everything is fine.
I'm gonna continue to call you lady 'cause my mother told me to do that, so it must be true. Otherwise it means some other things my mother told me might not be true. The looks are true though. My mother knows it. I know it. We all know it, we meaning my we, not your we. If my we talk about the look, and give it a name, you'll claim it never existed. That means I never existed.
Before I turned the corner, lady, I looked back to see if you were also looking back at me. I wanted to give you one more chance to make me exist.
Warmest regards,
Delano
Tastes Like Freedom
In Bangkok. Khao San Road.
I vomit my future on the bed.
Leave the guesthouse. Five dollars a night.
Listen to the tuk tuk taxis drive past, and beyond, me.
"Hello. Welcome," she says, in the singsong tone they all use.
Where you come from? ( I come from nowhere ).
My brain cancels plans to see another temple.
I need food, anything, to fill my soul with goodness.
"You can't be friends with kahtoey bar girls," I was told.
But they're my only friends, though they don't know my name.
I tell them about America. Mostly lies.
They tell me their lies. Probably true.
She looks like Warhol's Elizabeth Taylor painting.
All primary colors and secondary expectations.
Black hair ending at an isosceles triangle of a chin.
A scarf around her neck. Adam's apple prominent.
Maybe today I'll go to a museum. See something.
If you see something, say something, but know.
That nobody is listening to you.
Better to not be defined, but Google makes it too easy.
I order a whiskey and Coke.
It tastes like freedom.
The only other person in here is me.
I'm an amoeba, and have divided into two.
The other me was arrested yesterday. In Bangkok.
Didn't have my passport with me, and didn't have.
Any sense. Common or uncommon.
When they took me into the station, it was filled with other tourists.
All with dark skin. Africans who knew I wasn't one of them.
Because I was an amoeba. Not a man.
I became an American, and left my blackness with them.
In the police station. Hope they're ok.
I'm ok. One more whiskey, and I'll go be me.
***
Photograph of Delano Burrowes by Dan Oliverio.
---