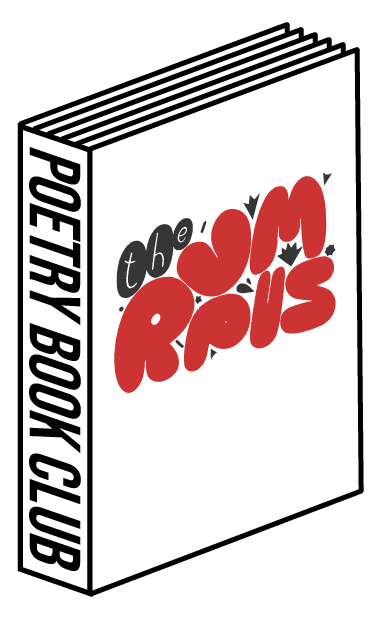 The Rumpus has a monthly Poetry Book Club ($30/mo).
Every month you'll get a book in the mail handpicked by The Rumpus staff. We search for poetry titles that we are truly excited about! These are books we think Rumpus readers should know about and we hope you'll enjoy.
They're brand new releases that our subscribers are usually receiving before they are widely available in stores.
As a subscriber, you'll also be invited to an exclusive moderated online discussion with the book's author and a Rumpus editor that month that we'll send you a pass code to join. These will take place on The Rumpus' Crowdcast channel and will remain available to members for 1 month after they take place in case you miss the live event or you'd like to re-watch the conversation later.
Subscribe by the 15th to receive next month's book and join in the author conversation. For example, to receive our May book, make sure to subscribe by April 15. Previous & upcoming book club picks are listed below.
Programs like our Poetry Book Club put you in direct communication with the literary community and help keep The Rumpus running. Thank you for your support and happy reading!
2023 Selections include:
January: Judas Goat by Gabrielle Bates
February: Promises of Gold by José Olivarez
March: Synthetic Jungle by Michael Chang
April: Standing in the Forest of Being Alive by Katie Farris
May: West by Paisley Rekdal
June: I Do Everything I'm Told by Megan Fernandes
July: Diaspora Sonnets by Oliver de la Paz (subscribe by June 15, 2023)
August: I Done Clicked My Heels Three Times by Taylor Byas (subscribe by July 15, 2023)
additional titles to be announced!
NOTE: Due to consistently low participation numbers, the prose Book Club ends after our June 2023 selection. All prose and Combo Book Club subscribers were informed via email and will not be charged after May 15, 2023. Our Poetry Book Club has always been more popular and we hope to keep it going for as long as possible! Please join if you'd like to see it continue.
FAQs:
Q: Can I participate in your Poetry Book Club if I live outside the US?
A: Unfortunately, we are unable to offer international book club subscriptions at this time.
Q: What's the cut-off date to receive the upcoming month's book and to participate in the discussion?
A: Please subscribe by midnight on the 15th of the month to receive the next month's book and join in the conversation with its author and a Rumpus editor on our subscriber-only Crowdcast channel. Please note as soon as you sign up for a subscription, you'll begin receiving author conversation invites. That means, you may receive an invite to join a conversation in the month before your 1st book. Feel free to attend if you wish!
Q: How do I receive and invite to the Book Club conversations with authors?
A: We will email you event links and pass codes at least a few weeks before every event and a reminder the week of. Conversations will take place on The Rumpus' Crowdcast channel. If you joined a book club but didn't get an invitation, please send an email to [email protected]. Usually, these exclusive author discussions will take last week of every month for both club. We never schedule the Club conversations on the same day, so it's possible to attend both live.
Q: I'm already a subscriber, how to I update my address, payment, or other information so my subscription isn't interrupted?
A: You can create or log into your existing account on the Rumpus Store page and update as needed. If you're address changed and you're worried a recent book won't arrive to your new place, please contact our Store Manager, Eric at [email protected].
Q: Are there refunds?
A: No. But you can cancel a monthly subscription at any time by creating or logging into your existing account on the Rumpus Store.
Q: What if my question wasn't answered here or I'm a book publicist or publisher who would like to submit a book for consideration?
A: Please contact [email protected] with any additional questions about our book clubs. Note we're generally deciding on upcoming Book Club picks at least 3 months in advance.