林. Lim. Forest. My last name's origin story begins with the Shang dynasty's end. The cruel king who would not change his ways and the king's uncle, his sage. The sage stayed by the king's side in hopes of persuading him to kindness. The sage's hopes became a wilting thing. The king charged the sage with treason and ripped out his heart. The sage's wife, pregnant, fled upon hearing of his execution. In the specks of her husband's fleeting prayers, she found a forest. 長林. Chang Lim. Oldest Forest. Deep within, behind fog and moss, a rocky cave became her fortress. Alone, she gave birth to a son. The child's name, 林坚. Jian Lim. Strong Forest. In this time, the king was overthrown and the sage's wife and son returned safely. I hold this story close to me. This remembrance. My ancestors' first narrow escape from death.
***
As a child, I knew quietness. Stillness. When to run and hide. In childhood games of hide-n-seek, I became an often-forgotten player long after the rounds finished. My father joked to me that running and hiding is our blood. That we are a line of victorious refugees.
***
I never knew my father's father. The details of him are hazy. My father tells me his father was a chain smoker. I pretend this haze is one reeking of cigarettes. My grandfather fled the Japanese invasion of Guangzhou to Cambodia. He married my grandmother, fathered 12 children. My father will tell these stories freely: my grandfather's fish sauce factory, his fear of ghosts, the heartbreak of losing his firstborn daughter. Then the Cambodian Genocide. That story, my father tells in fragments. Only if I ask.
I can trace my father's footsteps on a globe. At twenty-years-old, he began his journey. The two-month trek with the rest of his family from Phnom Penh to Saigon. The twelve-day boat ride from Vietnam to Thailand. The weeks he and his family were held in a Thai prison for lack of papers upon arrival. "Who has papers when you're running from war?" my father always scoffs. After weeks without a translator nor proper food, they were released into the Kamput Refugee Camp. I do not know how long they stayed. What I do know is that they were fed pig slop. What I do know is that the guards stole money sent to them. What I do know is one month before his family obtained word they were chosen for sponsorships, my grandfather died in that Thai refugee camp. What I do know is incense smoke arrives in me when I hear this story. What I do know is in that moment, my grandfather passed his duty of protector of our forest to my father. My father—then passing his way to America.
***
If you look at my baby photo album, gold and jade ruptures across each page. Relatives doused me in jewelry, a way to celebrate my toddlerhood, a difficult feat to reach in their past lives. But those bangles and bracelets were never made to reach adulthood. They stayed their size while I grew. They left my life as soon as they came into it—onto the next relative's baby or stuffed away in tissue paper. Even then, I understood jewelry as something never meant to be permanent. But when I was no more than eight-years-old, my father gifted me a necklace. A twelve-inch rope chain, 1.5 oz, dangling a gold heart the size of a quarter. Inside the center, it clasped a ruby deep as pooled blood. On the back, my initials. It was mine. This was the first time I felt a piece of jewelry belong to me. A sense of ownership. This necklace that I could keep forever—this heart that could never be ripped from me.
***
If you're from the government, my mother was born in Vietnam. If you're here for the truth, my mother was born in Cambodia. When the Khmer Rouge took over, my mother was twelve. She and her family escaped to Saigon on foot. Originally from Svay Rieng, a province bordering southern Vietnam, my mother's family knew Vietnamese naturally. When Saigon fell, they too went to Thailand. They lied and claimed to be Vietnamese. They stayed in the refugee camps for Vietnamese people. They knew how Thailand viewed Cambodians. How they treated Cambodians. My mother became a trickster through the art of survival. It was easy for her family to lie about their names with no papers. And they faced no trouble for lacking them. They were Vietnamese, of course.
In my parents' Cambodia, no records exist to prove someone's existence. "You're alive, you're living, that is good enough," my father nonchalantly states, "If you die, you're gone, back to the ground." Paper will never prove a life to me—I know my ancestors' existence through scriptless stories, spoken word by spoken word, like the tale of my family's forest that no longer exists. If a tree falls in the forest, the forest will feel it. The body decays and the tree becomes part of the forest again, back to the ground. It does not turn to paper.
***
My father lived the first ten years or so in America in Aurora, CO. There, he met my mother once and then met her again on their wedding day. Yes, it was an arrangement. A transaction. Their marriage: nothing more than a contract.
To hold up a lie, one must dedicate themselves completely. That is what my mother did. If you're from the government, my mother's legal maiden name was Nguyễn. If you're here for the truth, my mother's real maiden name was and is Lim. If you're here to break into my bank account via security question with my mother's maiden name, don't bother. I never choose it as a question because even I confuse myself on the answer.
In traditional Southeast Asian fashion, the wife usually does not change her last name. In my mother's most sneakily inherent fashion, she married my father, a Lim, and tricked the American system in order to become part of herself again. In order to rejoin her namesake. My mother left Cambodia without her forest. Only in her wildest dreams, she found it again in America.
***
The American Dream for my father is to lie low. Cause no trouble. Run to somewhere better when you can. The first couple years of my parents' marriage revolved around Aurora, until they decided snow was too wilting for their tropical skins. They decided on the hot and humidity of Houston, where they could grow green again. But the first three years of my life, my parents hid me inside our house in Greenspoint, Houston, known by locals as Guns Point. A neighborhood where the poverty-abundant folks lived and the gunpoint robberies accrued in abundance. I never knew the color green there, only concrete and brick and metal.
My father worked as an auto mechanic. I know he worked long hours because I can't recall him in my early memories. I imagine he came home every night, hands heavy with grease and the swirling odor of sweat and metal.
Eventually, he was able to buy a house and moved us across the city to Atascocita, TX. Quaint. Pleasant. I remember watching all the trees pass us by on the first car ride. On a zoomed-in map, it's nestled right under Kingwood—"The Livable Forest." Right then, I first learned what a forest was. How the thistles of pine needles whisper in the wind. How it sounded like welcome. How it felt like a new beginning. We were the first family of color on the block. I still like to think we triggered the white flight that followed.
***
My mother will still tell the non-Asian folk in Atascocita to call her Kim. I asked her why she chose Kim to begin with. "金. Gim. Gold." It is not quite the same pronunciation, but the reasoning is enough for her: that those with a tongue too loose to say a single-syllable name can call her 金林. Gim Lim. Gold Forest. In the expected bastardization of her real name, she tricks them into becoming a fool's gold. She has them speak her into an unknowing glisten—conjuring a grove so gorgeous.
"I wanted to give you ounces of gold bars, but your father said to do jewelry," she explains. Each time I see my mother, another piece of her arrives in silken pouches—Quiet yellow. Soft pink. Good luck red. Always in these colors, she prays them into me. "It cost 1.5oz of gold per body to smuggle out of Cambodia," my father tells me. He knows this rate from when he needed to pay for my aunt, who didn't receive sponsorship, to escape from Cambodia— "It's about the weight of your necklace." The price has changed since my father paid years ago. Still, my mother knows gold will never let me down. There is a price to surviving. She knows it.
***
During my teenage years, my mother grew an affection for white gold. She began to accrue this new hoard—the silvery sheens stacking one upon another. I rejected these pieces she tried to slip me. "Yellow gold is too old fashion. All the women are wearing white gold now," she would attempt to persuade me. Still, I grew to know gold as only that of my mother's aura. My mother's skin tone is the softest dew of moonlight. She loves this paleness, layering skin cream after skin cream to keep it. Still, despite her attempts, a constellation of freckles finds home across her face. I am reminded of a sun's kiss when I look at her. How the moon still needs warmth to glow even in the coldest winter nights. How my summer-rich skin can still come from that of my mother. How I can still shine like her despite our contrast of colors. My mother will always be the cusp of sunset and moonlight for me. A richness of a grove's glow hidden beneath the gentle fog.
***
In my mid-twenties, I now adorn myself little by little in the gold my mother gave me—her warning always weighing heavy in the back of my mind. "Remember, rich people will wear fake jewelry and say it's real; poor people will wear real jewelry and say it's fake," she hushed to me in the enclave of our kitchen. My father rarely speaks to me in a serious manner, our interactions a lighthearted series of jests and jabs. He'll frequently offer to buy me a new trinket from the jewelry store, half serious and half-jokingly, knowing I'll always say no. I never wanted this stash of treasure, this means of both vanity and vanish. I wanted this kind of inheritance to cease. But just as my family's inheritance had to begin again in China and Cambodia, I knew it had to begin again with me in America.
***
"Each girl in my family has one" is the excuse I give when asked about my bracelet. Gold wire, pebble gems of ruby, emerald, sapphire. It's not a lie, but not the whole truth. I began wearing it every day since high school, an attempt to reconnect to my heritage while growing up in a predominately white town. My parents weren't expecting me to be a girl, so my bracelet did not initially exist for me. My mother's mother sacrificed six inches of her necklace, the same wire and gems, shortening her gold so that mine could begin. I tell myself it's a matriarchal heirloom, but I know heirlooms require a longer family tie than what sits in my tree. Still, it is the closest thing I have. Not heirloom nor relic nor the simple pretty little thing I want it to be. It dangles gently from my wrist, a heavy reminder of where our forest has gone and where it may one day have to go. My mother told me to wear it every day. In case something happens. In case I need money. In case I need to flee.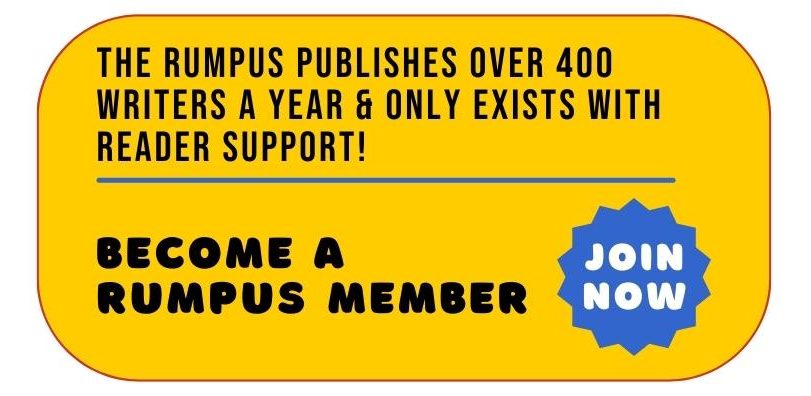 ***
Rumpus original art by Peter Witte
---