I think it was in 1986 or thereabouts that my friend Jim Lewis gave me a bootlegged cassette of a live radio appearance by Peter Holsapple and Syd Straw (with, I think, Ilene Markell, on bass and backing vocals–all of it taking place on KCRW). Jim was my close friend in college, and he went on to become a novelist and journalist. These days he lives in Austin, Texas. Chief among the many bands that Jim made me aware of, back then, were the dB's, featuring Peter Holsapple and Chris Stamey, and I became such a devotee of the dB's and the other architects of the "Hoboken sound" that I actually moved to Hoboken (in 1985), and lived there for about seven years. I lived a couple of blocks from Yo La Tengo, and used to see Chris Stamey on the bus going into the city. I went to Maxwell's, the club that served as the epicenter of the Hoboken sound, a lot. I got Bob Mould's autograph there once. Anyway, the Straw/Holsapple cassette had something really luminous about it. Peter and Syd played a bunch of dB's songs, those from LIKE THIS and THE SOUND OF MUSIC, as well, as some of Straw's songs from the Golden Palominos album, BLAST OF SILENCE, on which she sang. And I'm pretty sure they covered their amazing duet, "Never Before and Never Again."
Somehow I'd missed the Straw era of the Golden Palominos. I had their first album, a much artier affair featuring Arto Lindsay, Bill Laswell, and John Zorn, et al. And I'd heard some of VISIONS OF EXCESS on the radio station, including "Omaha," the song on which Michael Stipe sang. But it wasn't until I heard the KCRW show that I understood what incredible singer Syd Straw was. I admired Holsapple already (and I ran into him on a plane once, when he was touring with Hootie and the Blowfish–and let me tell you there's something strange about running into the heroes of your young adulthood when they are playing in Hootie and the Blowfish), and he shines on the bootleg, too, but Syd's voice, which is part faux-country, part Broadway, and a fair amount Vaudeville, really struck something in me. Especially on songs like "Diamond," Holsapple's song from BLAST OF SILENCE, and "Listening to Elvis," a Straw song from a Hoboken sampler called LUXURY CONDOS COMING TO YOUR NEIGHBORHOOD, Syd had some bittersweet (emphasis on bitter) and tragicomic (emphasis on tragic) quality that could not help but move even the casual listener. I wore out that cassette.
Then what happened? She released a solo album about the same time, and based on the popularity of the Golden Palominos, she got a major label deal. The first album has a lot of great New York players on it, Marc Ribot, most of the dB's, most of the Paliminos, including the elusive Peter Blegvad, and so on. Still, that album didn't haunt me the way the radio show had haunted me, and I kept it around for a while before selling in some purge of insufficiently-listened-to items. After which, ten years passed. That's how it goes in stories like this, stories about time and the effects of time: ten years pass. A lot happened in those ten years, but of import for the story is the fact that my music biz friend sent me a promotional copy of Syd's first album in ten years, War and Peace. By then Syd was living with the guy who managed Wilco, and was recording with this pretty amazing bar band called the Skeletons–in a stripped down format, doing nothing at all as slickly or as homogenously as on her first album. There was a desperation to the record, as though Syd couldn't bother to take the time any longer to polish up the dark parts of her autobiographical impulse with love song varnish. And nowhere was this more evident than on its hit, a song about the New York that she knew when she first moved there to perform (as, among other things, a backing vocalist for Pat Benetar), "CBGB's." A song about a real bartender at that late lamented club, and his band The Nylons, and the moment of chemistry between the real Syd and the real bartender ("I was married for a while/It ended in tragedy/Oh well, enough about me"), and the fact that nothing much ever came of it. "CBGB's" ends with a reiterated and entirely painful inquiry by the narrator, "Remember me? Hey, remember me?" But it's not just the particular bartender that Straw is trying to recover, it's the time, the ambition, the promise of youth, the belief in music, in the so-called redemptive power of rock and roll, not to mention the belief in love. As on the rest of album, which seems composed of one grim breakup after another, it's the trying not to give up that commands our attention.
A couple of years later, I was teaching at Bennington College when Loudon Wainwright III showed up to perform. The guy who ran the writing program at Bennington had very good taste in songwriters, and so he invited up Loudon for a show, and Loudon in turn brought along this friend of his to sing on a couple of songs. Syd Straw. I had never seen Syd in person, had never seen her do what she does, and because it was Loudon's gig, she didn't steal that dimly lit limelight. But afterward everybody went back to the faculty "dorm" and sat around singing songs. I tried to persuade to sing "CBGB's" and finally she complied, though she complained a little bit. It was already snowing outside, and while we sat in there, the snow piled up. It was incredible to hear Syd sing her lament for a totally, irreversibly, irrevocably lost youth with just a few people sitting around, a couple of really great novelists, a poet or two, Lucy Grealy, Loudon Wainwright, and so on.
We became pretty good friends after that. Syd and I did. Or, to put another way: ten more years passed. Because that's how it goes in these kinds of stories. What did Syd do in her next ten year layoff? She played a few shows, especially on Valentine's Day, got in various kinds of arguments with whoever was booking the show, she found fault with the musicians that were backing her (and usually I attributed this to a) the fact that the players were, in fact, not good enough, and b) that Syd was and is so talented that she just wanted people to play with the kind of grace that she brought to her efforts), and then there were always unsettling stories, gigs where she got arrested for quarreling with the police before the show, horror stories about romance and about her family, her parents, both of whom died after War and Peace, siblings who were either into some dark stuff, or who would scarcely lift a finger to help, and so on. Always the hard way, as Syd always put it, and it sure was the hard way.
Then some years back Syd started talking about making another record. How was she going to do this, exactly, since she'd been dropped by the thieves at Capricorn Records, and she was chronically "financially embarrassed," as my grandfather used to put it? And she was kind of stuck in central Vermont, forever trying to avoid the punishing winters and their attendant heating bills, and there weren't any of her awesome musical confreres there, the guys who might be willing to sit in on a few sessions out of love for this difficult, brilliant singer. Over the years, all the labels rejected the album, some motherfucker stole the master tapes, and Syd was, as far as I could tell, five guitar solos from being done. This went on and on, and I for one, because I believe that time is the avenger, that time lays waste to everyone, to every bit of talent that has he hubris to appear in the world, never believed that Syd's album would be finished. Not because I didn't believe in Syd, but because I don't believe in time.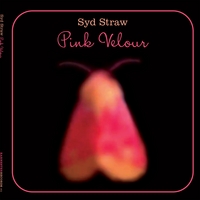 And then without any fanfare, it was done! Pink Velour, it's called, and most of it orbits around the title song, about Syd's mom, who not long ago passed away. That's a beautiful song, but the one I want to talk a little about is last song, "Actress," which manifestly deals with Syd's avocational, or occasionally vocational interest in the thespian pursuits, but which is more concerned with the travails of Hollywood failure ("Then I failed my screen test/Fucked up my audition/I'm an actress/In a town that's full of them/Act as if you care"), as a way of talking about everything that Syd Straw once believed in, as a singer and songwriter ("I'm having that kind of career,/I'm having a kind of career/I came here to become a star, but this is my life so far"). As with a lot of Syd Straw songs, since Syd's guitar playing is in the beautifully rudimentary category, the song comes to rest on a one-four chord progression, and settles in there for about four and a half minutes, as Syd's new band (a heterodox group of very talented jazz and rock veterans called Plankton who have the wherewithal to go wherever they are sent by the chanteuse) brings all the dynamics to the part where she mumbles a few more devastating self-lacerations and accusations, during the long slow fade: "Always rely on the kindness of strangers," and "Who am I anyway, when I'm not acting?," and "Why don't you come over and see me sometime?" And so on: trying not to give up.
If this song doesn't make you cry, you aren't listening carefully. But what does it tell us about where music is now, because that's the reason to write about it (besides, that is, writing about it to bring your attention to it). Most popular songs, with their puppy-love advice-column nonsense, tell me nothing about how life is actually lived, and as such, they are incapable of moving me. Doesn't matter how good the performances are. Probably part of the reason for this is that the record companies, who are not immune to demographic calculations, are chasing the disposable incomes of the young, and so they hew to songwriting that addresses young people. But what about adults? Who the hell, then, is making records for adults? There are a few obvious examples, the baby boomer icons (long past their best work), but otherwise the vast majority of popular music is made not to stand the test of time, but to be wiped away by time. The collateral damage is just about every songwriter of a certain age, every songwriter who tries capture in the amber the heartache of middle age, and the giving out of the ambitions that sustained her when she was young. There's no mercy in it, there's no mercy in the world, there's no mercy in time, unless there's the occasional glimpse of the fact that we are not, in this suffering, alone.