Notable New York, This Week 12/28/09-1/03/10
This week in New York The Poetry Project holds its 36th Annual New Year's Day Marathon Benefit Reading, Ludacris and Sandra Bernhard perform, 92Y hosts a New Year's Hustle Bash, swing takes Manhattan at the Holiday Swing Ball and at the Film Forum with Fred Astaire and Ginger Rogers, Gypsy punk band Gogol Bordello performs, enjoy some old fashioned New York fun Mad Men style at Bemelmans Bar, and take in the work of two renowned photographers Ellen Von Unwerth and Robert Bergman.
MONDAY 12/28: Ludacris–For the Apollo's final concert of the year, the venue presents one of the biggest names in entertainment–rapper, actor and philanthropist, Ludacris. The Atlanta-based hip hop star performs hits from his latest release "Theater of the Mind" and classics like "What's Your Fantasy." $49. Apollo Theater. 8:00pm.
Gravid Water – New York's top improvisors and actors, from Broadway, 30 Rock, Conan, SNL, and beyond, perform in scenes from Tom Stoppard to Sophocles, and everything in between! With Jason Sudeikis, Michael Delaney, Becky Drysdale and more. Upright Citizens Brigade Theater. 307 W. 26th St. $5. 8:00pm.
The Third Man – Orson Welles stars in this Carol Reed classic, which celebrates its 60th anniversary with a new 35mm print. Roger Ebert says, "I've seen it 50 times and it's still magic." Film Forum. 209 W. Houston.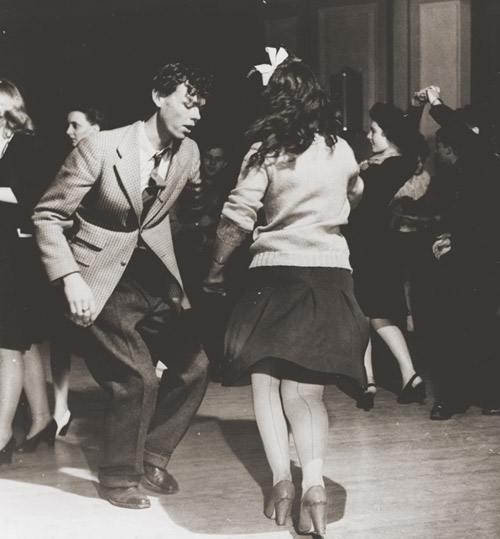 TUESDAY 12/29: Holiday Swing Ball. 7:00pm Swing Dance Lessons. 8:00pm Lil Cliff & the Cliffhangers. 9:30pm-1:00am Eight to the Bar. Plus DJ Paola Lanna. Connolly's Klub 45. 121 W. 45th St.
Gogol Bordello. Gogol Bordello has been breaking down musical barriers since 1999 with a supercharged sound rooted in the gypsty two-step rhythm, and augmented by punk, metal, flamenco, roots reggae, Italian Spaghetti and Western twang. Webster Hall. 125 E. 11th Street. 7:00pm.
Listen to Gogol Bordello's Wonderlust King
WEDNESDAY 12/30: Violent Soho, She Keeps Bees, and Rainbow Party perform live at Glasslands Gallery. Brooklyn.
Madcap Manhattan continues its run at the Film Forum with Swing Time, the pinnacle of the Fred Astaire-Ginger Rogers collaboration. 8:10pm. Film Forum.

How To Find a Date For New Year's Eve on Howcast
THURSDAY 12/31: Sandra Bernhard at Joe's Pub. As part of it's 10th Anniversary Celebration, Joe's Pub presents Sandra Bernhard this New Year's Eve. For 25 years, Sandra Bernhard has been challenging fans and critics with her knife-edged humor, satire and emotive performances on film, television and stage. "An Evening with Sandra Bernhard" includes comedy, commentary and music, and Bernhard appears with musical director/pianist, Mitch Kaplan and guitarist Pam Adams. 9:00pm and 11:00pm. 425 Lafayette Street.
New Year's Hustle Bash. Get ready for a hopping New Year's Eve dance party hosted by Lori Brizzi and some of New York's hottest dancers and DJs! Dance the ballroom classics from 8-10pm, then hustle your bustle 10pm onward. $35. 92Y. Lexington Ave. @92nd St.
FRIDAY 1/01: The Poetry Project's 36th Annual New Year's Day Marathon Benefit Reading. Poets and performers including Eileen Myles, composer Philip Glass, avant garde filmmaker Jonas Mekas and former Warhol Factory scenester Penny Arcade read. Since its founding in 1966, the Poetry Project at St. Mark's Church in-the-Bowery has been a forum for public literary events and a resource for writers. Over the past four decades, hundreds of poets, writers and performers, including Allen Ginsberg, John Ashbery, Adrienne Rich, Sam Shepard, Alice Notley, Leroi Jones, Patti Smith, Yoko Ono, and Sherman Alexie have shared their work at the Poetry Project. St. Mark's Church in-the-Bowery. 131 E. 10th St. $18, $15 for students. 2:00pm.
Photographer Ellen Von Unwerth's Fraulein. The photographer and former model who rose to stardom with her renowned photographs of Claudia Schiffer for a Guess? ad campaign, presents artful sexy photos of Kate Moss, Lindsay Lohan and Carla Bruni. Staley Wise Gallery. 560 Broadway.
Guggenheim Museum Celebrates its 50th Anniversary: In honor of its 50th Anniversary, the Guggenheim has produced a documentary film on the history of its building, collections, exhibitions, and the development of its international network. The 27-minute film combines archival materials—including talks given by Solomon Guggenheim and Frank Lloyd Wright—with contemporary footage featuring artists, art historians, architects, architectural historians, and curators. 11:00am and 11:30am. 1071 Fifth Avenue (@89th Street)
SATURDAY 1/02 -Pay What You Wish at the Guggenheim. Formerly offered on Fridays, Pay What You Wish hours are hosted by the museum on Saturday evenings from 5:45 to 7:45 pm. 1071 Fifth Avenue.
Mad Men Fun – If you're feeling like jackets, pearls and Old Fashioneds, amuse yourself in old New York style with jazz and a nightcap by the muraled walls of Bemelmans Bar. Loston Harris Trio performs from 9:30pm-1:00am. $25. The Carlyle Hotel. 35 E. 76th (@ Madison Avenue).
ART: From 1985 through 1997, Robert Bergman traveled America's Midwest and East Coast by car with a 35mm format camera, taking portraits of people he met by chance. After spending a brief time with each subject, Bergman created portraits of people in the urban locations where he encountered them, using only available light. Bergman is currently holding two debut solo exhibitions, one in Washington D.C. at the National Gallery and one in New York at P.S. 1 Contemporary Arts Center (22-25 Jackson Avenue, Long Island City). In conjunction with these two solo shows, the Yossi Milo Gallery in Chelsea is holding an exhibition of Bergman's color photography.
***
Original Notable New York Illustration © André da Loba
Other images in order of appearance: Photograph of dancers from the Library of Congress; photograph by Ellen Von Unwerth; untitled photograph from Robert Bergman: Selected Portraits at P.S. 1 Contemporary Arts Center.
News about notable happenings in New York can be sent to rozalia-AT-therumpus.net
---