The Rumpus Album Review: White Wilderness
John Vanderslice knows how to make music. He has been recording bands for over a decade at his San Francisco studio, Tiny Telephone.
John Congleton knows how to produce music.  He has mixed and mastered the likes of The Walkmen, Modest Mouse, Okkervil River, and The Mountain Goats.
Both are established indie rock musicians in their own right, but neither have an orchestra at their fingertips.  Minna Choi does, though.  Minna is the conductor of Magik*Magik Orchestra, a for-hire collective of classically trained musicians based in the Bay Area.
So, when it came time for John's latest album, it was only natural that he ask Minna and 19 members of the orchestra to accompany him for three days of live recording.  Three days.  Nine songs.  All of them fantastic.  John's music has always been lush with both acoustic and electronic layers, but Magik*Magik's participation and the live recording process add a rough depth to the album.  A recovering perfectionist, Minna credits the three-day recording process with helping her learn to let go.  "People treat working with an orchestra like it's their wedding day," she says.  "This is not our wedding day.  This is just another day."  Except that when you're a group of talented musicians, "just another day" means creating songs that are both familiar and unexpected; classical and danceable.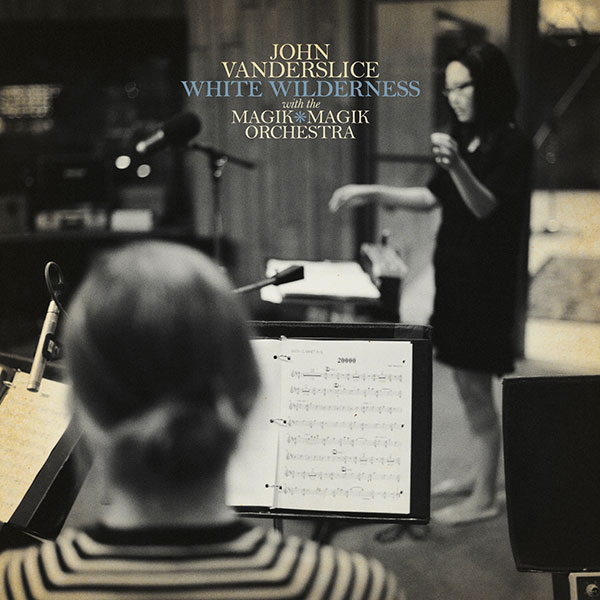 White Wilderness is as short as it is sweet.  With nine songs that clock in at just over half an hour, the album marries John's mournful voice with architecturally ascending strings, foot-abducting beats, horns, pianos, and drums both large and small.  The live-recording process gives every single song such a bigness that it almost feels as if you are with John, Minna, and the orchestra, lounging on one of the tattered couches that occupy the living-room-cum-recording-studio.  "Sea Salt" opens the album with melodic pianos and classical string arrangements that ease the listener into Magik*Magik Orchestra's world; "The Piano Lesson" kicks White Wilderness into gear with lively horns, orchestral drums, and John's signature vocals, still unpredictable after so many albums; "After it Ends" follows immediately with an intimately solitary guitar; and "20K" closes the album with understated singing and operatically delicate strings, punctuated by a piano so different from the album's opening, it's surprising they're only 31 minutes apart.
Magik*Magik Orchestra will take up permanent residence at the opening of Tiny Telephone's B Room, or Mini-Tel, as John likes to call it.  The B Room will feature analog-specific recording at ridiculously affordable rates on a first-come first-served basis to anyone who is, "totally passionate and not mentally ill," says John.  He and the Magik*Magik Orchestra will be playing a show mid-June, to be announced.  You can get White Wilderness in digital, CD, and LP format from Dead Oceans.
---