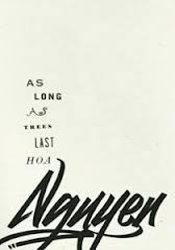 "As Long As Trees Last" by Hoa Nguyen
Seattle's renowned independent press, Wave Books, recently published Hoa Nguyen's third full-length collection of poems, As Long As Trees Last. In it, Nguyen once again dares to experiment with form, structure, and language to bring us a collection of genuinely thought-provoking poems interspersed with glimpses of beauty often missed in the bustle of modern life.
Many of the fifty-seven poems that make up As Long As Trees Last, which takes its name from a line in "Too-Fast Spring Birds," are short, self-contained, and wonderfully intriguing. Choosing to trust her readers, Nguyen eschews the obvious, often purposefully leaving the meaning of her work open to interpretation. Nguyen's poems linger long after the reader has finished them, posing questions with their concise and innovative use of language, and many are deserving of multiple readings.
Opening with "Never Seen," we are immediately presented with the evocative imagery that remains a defining characteristic of Nguyen's work. The lyrical, yet often jarring, combinations of words provide the reader with hints of the pace and energy that make As Long As Trees Last such a compelling collection.
Born near Saigon, Vietnam, in the political turbulence of the late 1960s, Nguyen spent her formative years in Washington, D.C., and many of the poems in As Long As Trees Last are fraught with barely controlled vitriol and cynicism. A sense of almost grim determination is especially evident in poems such as "Rage Sonnet:"
Mother ran large food trays sore
shoulders
Lobster surf & turf
It's Independence Day 2011
We may have been poisoned
by Operation Ranch Hand
I am not dead yet
While referencing the herbicidal warfare campaign waged by the U.S. military during the
Vietnam War, "Rage Sonnet" also speaks of the lasting spiritual casualties of the conflict, revealing a complexity and emotional resonance through a remarkable economy of words rarely seen in the work of other contemporary poets.
Nguyen's choice of language in poems such as "I'm Stuck" offers the reader an insight into the sense of frustration and quiet resolve often exhibited by many urbanites, and her skilful use of metaphor could also hint at the narrator's desire to break free from dogmatic populist thinking:
I'm stuck on a people mover
Have to cut off the heel
of my sock so I can leave
the train station
"A majority of whites
still disapproved of interracial marriage"
(1991)
The search for meaning and identity in an increasingly homogenized society is a common theme throughout the collection, cleverly revealed through the offhand remarks of a cab driver in "Ridiculous Couplets," and the weary observations of "Intimate." These ideas are explored further in poems such as "The Problem," which subtly addresses the conflict between consumerism and the nature of individuality. Other works, such as "US," experiment with form to examine the apathy evident in American culture in a much more direct and confrontational manner.
Throughout As Long As Trees Last, Nguyen transitions smoothly from the lethargy of American society to the futility and emptiness of modern life in works such as "Stimulus Drive Bulge," which carefully balances factual data with barely restrained contempt. The gradual corruption of globalization and industrialization, both figuratively and literally, is vividly brought to life in poems such as "You Can Sample:"
You can sample cord blood
find rocket fuel there
Find rocket fuel in breast milk
also lettuce
I wear a SpongeBob SquarePants Band-Aid
hear the running toilet
Money goes
tied to the subprime
we go
"month to month"
While many of the poems in As Long As Trees Last deal with the personal implications of
modern politics, others, such as "Being," focus on wider universal concepts, including wisdom, understanding, and personal growth. In "Being," Nguyen captures the minutia of daily life while using it as a device to represent the reluctant acceptance that often comes with age. Other poems, such as "Valentine's Day Sonnet," focus almost entirely on small, everyday details, somewhat reminiscent of the work of poets like Keetje Kuipers and Steve Scafidi.
While the beauty of the ordinary is a cohesive theme throughout the collection, longer poems, such as "Lady Xoc," explore concepts such as female sexuality using powerful and often dramatic imagery:
Woven basket to collect the blood
and a diamond-patterned garment
Paper collects
the blood in spatters
Mourning doves collect in trees above
remind you of hangovers
She is Lady Xoc
"letting blood" there's a purpose
to this
The meaning of many poems in the collection is left intentionally ambiguous. Nguyen instead relies on her characteristic use of language and juxtaposition to subtly convey the emotional undercurrents of her work, and she often experiments with form and structure to lend her poems a uniquely introspective and thoughtful quality. The to-do list of "Rain Poem," the recollection of memories in "Dirt-Under-Nails Dirt," and the cautious optimism of "Iodine" provide us with glimpses of vulnerability that contrast well with other bolder poems in the collection.
The language of As Long As Trees Last makes for wonderfully evocative reading, a layer of intrigue and complexity coating the poems like the fine dust on the forgotten curios of an antique store, inviting us to touch and explore them. However, for readers unfamiliar with lyric and experimental poetry, the collection may prove somewhat daunting. While Nguyen's use of words and imagery is rich and expressive, some readers may find As Long As Trees Last to be less accessible than the work of other poets.
Despite this, Nguyen remains one of the most powerful, vivid, and even visceral contemporary poets working today. Readers hoping for a thought-provoking and and strikingly familiar exploration of life in 21st century America will find As Long As Trees Last to be a compelling and often moving collection.
---