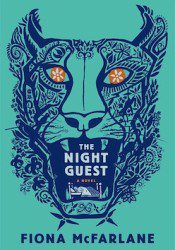 The Night Guest by Fiona McFarlane
A tiger prowls the living room of Ruth Field's home in the middle of the night. From her bed, she hears a heavy snort and smells the fecund jungle odor—or thinks she does. A call to her son assures her that the episode is imagined. After all, Ruth is elderly and lives alone in a beach house on the southern coast of Australia. Her husband, Harry, died five years ago, and her two sons live in different countries. There's a lot of room for the mind to take over. And yet, as far as Ruth can tell, the beast roams.
She survives the night, but the morning brings another unexpected visitor: Frida Young, a caretaker sent by the government. Ruth's quiet hours of idling by the window with tea are now filled with Frida's presence, large in stature and personality, full of opinions and vigorous cleaning and tough love. There's a strangeness about this new guest. The color and shape of her hairstyle change constantly, she slides quickly from being nurturing to bossy and back again, and the original one-hour daily check in elongates into entire mornings and afternoons. Frida takes on a shifting, sinister quality, someone not easily crossed.
The pieces are in place for Fiona McFarlane's novel The Night Guest, which explores the last stage of a life, when memories catch up to and overtake the present, and when the world, always so achingly familiar, becomes an unreliable place. The book feels not like a first novel, but a second or third. McFarlane's language is strong and rich, and she tackles the story with confidence. Each thread is deeply imagined: the circumstances of Harry's death, Ruth's vivid (and increasingly intrusive) memories of growing up in Fiji under missionary parents, and Frida's own volatile life troubles. McFarlane knows these characters and their histories well, and that's no small accomplishment for a debut book.
The dynamic between the two women moves from trust to suspicion, or vice versa, often within the same scene. Frida insists that Ruth isn't in the best mental or physical shape to take care of herself, which is true. Ruth suspects that Frida is taking over her home and life, which is also true. And readers aren't sure whom to believe. Readers aren't sure whom to believe, and the confusion deepens as McFarlane adds a fantastical layer to the conflict. When Ruth invites a long-lost love to her home for the weekend, she's startled to discover that Frida has moved into the spare bedroom. Ruth has no memory of allowing this, but when she challenges her, Frida begins to take on otherworldly proportions: "Then she stood. She was enormous. She seemed to have risen up from the ocean, inflated by currents and tides, furious and blue; there was no end to her." Frida becomes, at times, as much a fantastical figure as the tiger.
The style of the book contributes to the disorientation. McFarlane paints a thick atmosphere, mimicking the cloudiness of Ruth's mind: days slide into days, seasons into seasons. All the while the strangeness and stakes increase. Is that Frida's distinctive laugh on the other end of the phone, when Ruth calls her lover? Has Frida locked her inside the house, or have the doors been open the whole time? When Ruth falls into a sand pit outside of the house, Frida leaves her—challenges her—to drag herself out. When Ruth goes on a rampage in Frida's room, there is no telling how Frida will react.
For most of the novel, McFarlane balances the real and fantastical impressively. The book opens with a supposed tiger in the house, and that tiger later draws real blood. Yet in the last act, the story falls heavily into one of those camps, resolving the tension and wonderful ambiguity too decisively. Ruth, too, becomes a passive participant in key final scenes, marginal to her own story. Some of that feeling is necessary to the unfolding of her character, but her dismissal is perhaps too complete, and arrives too early.
But back to the tiger, because the poignancy of the book comes down to what Ruth finds in that particular night guest. Hearing the animal for the first time invigorates Ruth in a way that had become lost to her: "For some time now she had hoped that her end might be as extraordinary as her beginning. She also appreciated how unlikely that was." And later, she takes much pleasure embodying a bit of that tiger, casually bumping furniture as if she, too, is capable of such grace, strength, and disregard.
What matters to her—and to us—is how much of that spirit you can recapture, or find in the first place. The Night Guest is a confident and engaging debut that poignantly depicts the final act of a life, the memories and loves that can (and can't) be regained, and the mysterious visitor that we all become, eventually, to ourselves.
---