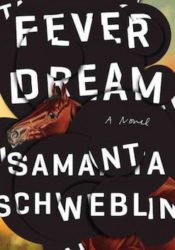 Fever Dream by Samanta Schweblin
Samanta Schweblin's Fever Dream is more than just a creepy story. It's about the bond between a mother, Amanda, and her child, Nina, and how relationships can shift when different situations threaten them—such as poisonous water, a suspicious energy healer, and disturbing secrets—not to mention the evil child and dead animals give the story an eerie vibe.
The plot of the novel is basic: a poisonous liquid kills a horse and almost kills David, Carla's son. Carla takes David to an energy healer who saves his life, but David is not the same 5-year-old boy afterwards. Half of his spirit has gone elsewhere, and the spirit that replaces that half of him is one that talks like an adult and gives David a vacant, yet murderous look in his eyes. Amanda and Nina are vacationing in the same town and become acquaintances of Carla. Eventually, Nina comes into contact with the poison and Amanda has no choice but to turn to a woman she barely knows, Carla, for help—and Carla provides more fear and questions for Amanda than guidance.
Though it may sound straightforward, Fever Dream's narrative structure toys with the reader's understanding of the events. Schweblin uses the novel's structure to evoke the sense of being attentive to and pulled by something you are emotionally attached to. In the overarching story, David and Amanda are having a conversation as he directs her through her memories so together they can figure out what happened with Nina. David's dialogue is set in italics, adding a sense of urgency. He demands that Amanda focus on specific details.
The green house is the house where the woman took care of you.
Yes.
The one who saved you from the poison.
That is not important.
How can it not be? That's the story we need to understand.
No, that's not the story, it has nothing to do with the exact moment. Don't get distracted.
The other narrative thread in Fever Dream is Amanda's account of the events, as she is telling them to David. These two stories slip seamlessly back-and-forth, and because they are both in present tense, the tension in each storyline snowballs. As the novel shifts between the two narratives, the tension builds, yanking on the reader's emotions and tugging on her sense of needing to know the specifics. David orchestrates the novel's tension and eerie tone with his insistence on what is or isn't important.
This is it. This is the moment.
It can't be, David, this is really all there is.
That's how it starts.
My God.
What is Nina doing?
She's such a pretty girl.
What is she doing?
She walks away a little.
Don't let her walk away.
Schweblin's pull on the reader is two-fold. You want to know 1) what really happened between Amanda and Nina, and 2) why David insists that certain moments and details aren't important. But what's irresistible about the novel is how its structure heightens the interplay between what the David and Carla know and what Amanda, along with the reader, is desperate to figure out. Schweblin pushes the reader to piece together Fever Dream's various meanings. At its core, the novel is about what Amanda calls "the rescue distance."
Right now, for instance, I'm calculating how long it would take me to jump out of the car and reach Nina if she suddenly ran and leapt into the pool. I call it the 'rescue distance': that's what I've named the variable distance separating me from my daughter, and I spend half the day calculating it. […] I need to measure the danger, otherwise it's hard to calculate the rescue distance […] When did you start to measure this rescue distance?
It's something I inherited from my mother. "I want you close," she'd say to me. "Let's stay within rescue distance."
Your mother isn't important. Go on.
The novel's structure also brings forth a theme and concept that the reader, like Amanda, has to learn how to accept: there are some things you just won't ever know. It's the unknown that creates tension. The novel opens with a horse who mysteriously falls to the ground, then dies. The fact of a dead horse isn't what bothers the reader—what creates the inner tension is how no one—reader and characters alike—know how the horse died. What invisible substance or force was powerful enough to kill a horse within a few hours?
For the reader, it's hard to figure out where David and Amanda are during this conversation. Is David physically in Amanda's presence as they have their conversation, or is the narrative happening in Nina's head? It is also hard to figure out when this conversation is happening. Right after Nina touches the poison, or years later?
Although I don't have answers for these questions, the novel still works for me. It explores urgency and love within the context of unknown harms. The characters will never figure out what happened, and neither will the reader. We have to accept the unknowns. Because knowing the facts isn't the point.
Fever Dream isn't a mystery novel or a whodunit story, even though the novel thrives on the mysterious. It's an exploration of the maternal instinct to protect a child, what challenges that instinct, what breaks it, and who we turn to when we don't know how to save those we deeply care about.
---