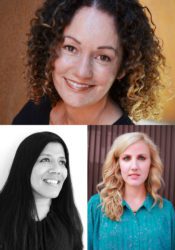 Three Strong Women: Lisa Rosenberg, Maw Shein Win, and Libby Burton
"What I learned on that first flight alone / Is that I sing when I'm afraid." Ann Darr, who wrote that, was a pilot who broke barriers and composed poetry with daring, grace, and wisdom. I've loved her eloquence for more than forty years and Lisa Rosenberg, Maw Shein Win, and Libby Burton have similar talents that sing in our fearful moment. Each of these new books can be appreciated separately, though there are many shared concerns that are met with great skill.
In A Different Physics, Rosenberg, a licensed pilot who won the 2017 Red Mountain Poetry Prize and has a degree in physics, displays multifaceted precision. The rigor necessary for the scientific understanding can complement and expand the wonder that accompanies people of faith, or can stand on its own as it bestows pleasure and knowledge. A different physics indeed.
Much of the pleasure in A Different Physics is the way Rosenberg relates time and landscape. Here is the first part of "West Coast Triptych":
In a dusk of lavenders,
the crescent
of an incomplete overpass
on three dark pillars
of concrete.
The space between

admits the sintered lights
"Sintered" fits perfectly because of its sound in relation to the words it's surrounded by.
"Matisse on Silicon" should become a classic for the way it synthesizes experiences that are now irreversibly inseparable.
A seated nude instead of circuitry:
bare silver pools of torso, head, and limb
afloat in blue. Wafer as estuary,

where business flows into the salt of calm
insouciance, of sex, and doesn't smile.
There's proof of what this water could have been,

microscopic features shot in profile:
crenellations and tapered phalluses.
Matisse's nude is on a grander scale

plain to the naked eye. She displaces
the stuff of livelihoods, your own perhaps—
row upon row laid down for devices

with tracery more intricate than stained glass
and equally solemn. The trade prefers
silicon wrought by hot metal in gas,

a palette as fine as any Old Master's,
suited to experiment and polished craft,
and reinvention the work endures.
Rosenberg is the 2017–2018 Poet Laureate of San Mateo County. Laureate comes from the ancient practice of crowning (usually male) heads with a wreath of laurel leaves as recognition of accomplishment or royal status. In "Matisse on Silicon" she does a superb job of merging old and new practice, proving, as she does elsewhere in this volume, that she has earned her her laurels.
Maw Shein Win is a Burmese-American poet and teacher. In Invisible Gifts, she uses a vibrant palette to grapple with her history of loss, displacement, and understanding, making accessible aspects of a culture unusual to many readers of English. "Blindfolds" is arresting in its precision:
the autocrats lost
in the wilderness wandering
the forest of delusion
or the reproving slap
of father, sir, boss

and the instability
of blindfolds that shield
necklaces of chains and nails
for soldiers
and boys

two thousand years
of longing stupefied tantrum
the oxhearts and oxlips
or the blackness of cherries
that burn through the snow.
She's writing about Burma but she's also writing about many countries, making this a moral sketch and act of resistance. From the implicit green in the "forest of delusion," to "the blackness of cherries/that burn through the snow," she has carefully colored her composition. This is craft on fire.
In a poem about her father, called "Dust and Smoke," she writes two stanzas. The first is in the first person, the second is in the third person. In the first paragraph the voice is twelve and hiding her presence from her father, the authority figure in the family den. He's wearing headphones and smoking Kent cigarettes in "his room," a man-cave made trite by him, not his daughter, who notes his playlist. Other than escape into the comfort of habit, the reader isn't entirely sure what the man is doing, and that's what makes the scene work:
on the shelf: Joni, Bob, Carly. My hair is short. I have bangs. The blinds are closed. The light coming through. Trail of smoke is a fairy wing.
That's a twelve-year-old's perspective, and getting it right is no small achievement.
Neither is the second stanza of the poem, with its ghostly "Dust on his white hair," and a "belly that protrudes," contrasting with "stick arms." The state of the belly and the arm signify physical hunger, in stark contrast to the explicit comfort in the den. Somewhere between these two blocks of content (as opposed to contentment) is the back page of displacement. It is heartbreaking, again because the specifics are so well rendered that they become universal.
Win's sister died two years ago and her absence is a presence. "Oars (elegy for sister)" is what all loved ones might wish for, as deeply felt as it is kind to the ear:
glass rowboat
shadow falls across bright eye
finger glides

down

river, shaded by haze
slim arms, bright fingers
trail waters

long

gone, shades drawn
up, bright against
the eye, arm trails

round

along river
below, the water
bright up

close.
Most cultures believe that music helps close the space between the living and the dead, and the longing for that "'invisible gift" is flawlessly evident here. Invisible Gifts is a bountiful, memorable collection.
Libby Burton is the most recent winner of the Saturnalia Books Poetry Prize, for her collection Soft Volcano. This is an astringent assemblage that is also rugged and riveting. She has lived in New Jersey, a state too often a target for ridicule or misrepresentation. "Elizabeth" is the name of a town and the title of a poem:
An orange-jacketed morning has let me loose over the clean, cat-tailed collar bone of New Jersey in a slick, purposeful bus. Then the memo your face bent by wind, as though parts of it were wishing to be somewhere else that night.

Remember the telephone? That sleek black animal. Remember a letter, which meant things would never be the same. Now clouds are livid with light-licked dirt and the sensation of not belonging. The day drench and the languor,

is the narrow hope sucked clean out of space with the dark, smoky force of your own tongue. But trust me: it's as simple as wanting it in you, rather than over there. I believe beauty is in the long want, the hot chase in under-lit parking lots, small disappointments

stacked up like coins. Beauty is in that old ingenious song of the heart. Little fang of light over Paterson: I am pinning a lot on you, what sustains with the particular tincture of inner thigh, in flex and hair. I am certain someday the craved world will be the one I living in.
"Orange-jacketed morning" and "the clean, cat-tailed collarbone of New Jersey in a slick, purposeful bus" make me hope Patti Smith is a part of Burton's audience. "Little fang of light," with its contradictory implications, is another fine stroke. The last sentence in the poem is a classic cri de coeur, with its hard-earned, paradoxically satisfying longing.
Informed by a title with such an active noun, one expects physicality in these pages and is not disappointed. "Sheriff Teeth" has wide ranging volume and a bittersweet wisdom:
Your father was a man made of chest: big as a country,
wrapped in such and such seams. Now suddenly September
and trees drop their leaves like thick skirts made unnecessary
by a quick list and obligation. Things are changing here.
Your father is dead. And the rose bushes are leaking
their manicured redness into the streets. So far gone
is the evening your parents sat drinking cold tea
on brown chairs that swallowed their bodies
as we were passing through, just trying to lose
our virginity. Now our friends have children who will
have children and then some. And this has nothing
to do—and everything—with how much our fathers
resemble our selves. How much we desire them to.
Like Lisa Rosenberg and Maw Shein Win, Libby Burton is in charge of her strong, original voice. Welcome all three of these books with enthusiasm for what they do, and with shared possibilities for the "craved world."
---