What to Read When You Want to Celebrate Poetry
It's no secret that at The Rumpus, we love us some poetry, which makes April one of our favorite months of the year! And, just in case sharing thirty thrilling new poems with you each day throughout the month isn't quite enough (can there be such a thing as too much poetry?), we've asked our editors to share some of their favorite poetry collections—including older collections they still return to, new work they are loving, and forthcoming books they can't wait to get their hands on!
If a title is marked as a Poetry Book Club selection, you can receive this book before its release date and participate in an exclusive conversation with its author! Along with our other subscription programs, the Poetry Book Club helps to keep The Rumpus alive—so you can celebrate National Poetry Month, connect with your favorite poets, and support The Rumpus with just one click. Head to our store and become a member today!
And, if you are in NYC next Tuesday, April 16 please join The Rumpus and Books Are Magic for a special National Poetry Month event at The Invisible Dog Art Center in Brooklyn! With readings from Andrés Cerpa, Hafizah Geter, Donika Kelly, Rachel McKibbens, Nicole Sealey, and Emily Skaja, and emceed by Cortney Lamar Charleston, we're certain this will be an extraordinary evening of words and camaraderie.
***
1919 by Eve Ewing
The Chicago Race Riot of 1919, the most intense of the riots that comprised the "Red Summer" of violence across the nation's cities, is an event that has shaped the last century but is widely unknown. In 1919, award-winning poet Eve L. Ewing explores the story of this event―which lasted eight days and resulted in thirty-eight deaths and almost five hundred injuries―through poems recounting the stories of everyday people trying to survive and thrive in the city. Ewing uses speculative and Afrofuturist lenses to recast history, and illuminates the thin line between the past and the present. A Rumpus Poetry Book Club upcoming selection!
The BreakBeat Poets Vol. 3: Halal If You Hear Me edited by Fatima Asghar and Safia Elhillo
The collected poems dispel the notion that there is one correct way to be a Muslim by holding space for multiple, intersecting identities while celebrating and protecting those identities. Halal If You Hear Me features poems by Safia Elhillo, Fatimah Asghar, Warsan Shire, Tarfia Faizullah, Angel Nafis, Beyza Ozer, and many others.
Magical Negro by Morgan Parker
Magical Negro is an archive of black everydayness, a catalog of contemporary folk heroes, an ethnography of ancestral grief, and an inventory of figureheads, idioms, and customs. These American poems are both elegy and jive, joke and declaration, songs of congregation and self-conception. They connect themes of loneliness, displacement, grief, ancestral trauma, and objectification, while exploring and troubling tropes and stereotypes of Black Americans. Focused primarily on depictions of black womanhood alongside personal narratives, the collection tackles interior and exterior politics―of both the body and society, of both the individual and the collective experience.
Swing at Your Own Risk by Metta Sáma
Swing at Your Own Risk, structurally designed to swing from one subject to the next, from one lyric utterance to the next, concerns itself with unpacking myths of gender, race, sexuality and violence (specifically myths of the scary black man in the US and the scary black woman in the US). Through formal and structural experimentation, the poems attempt to look at the varying issues in the US that can rob humans of opportunities to be radically humane.
MOON: Letters, Maps, Poems by Jennifer S. Cheng
Mixing fable and fact, extraordinary and ordinary, Jennifer S. Cheng's hybrid collection draws on various Chinese mythologies about women, particularly that of Chang'E (the Lady in the Moon), uncovering the shadow stories of our myths—with the belief that there is always an underbelly. MOON explores bewilderment and shelter, destruction and construction, unthreading as it rethreads, shedding as it collects.
Loves You by Sarah Gambito
In Loves You, Sarah Gambito explores the recipe as poetic form and a mode of resistance. Through the inclusion of real recipes that she and her family cook from, she brings readers to the table—not only to enjoy the bounty of her poems but also to consider the ways in which Filipino Americans, and people of color in general, are assailed and fetishized. In addition, the book explores the manifold ways that poetry can nourish and provide for us.
Brute by Emily Skaja
Emily Skaja's debut collection confronts the dark questions and menacing silences around gender, sexuality, and violence. Brute arises, brave and furious, from the dissolution of a relationship, showing how such endings necessitate self-discovery and reinvention. The speaker of these poems is a sorceress, a bride, a warrior, a lover, both object and agent, ricocheting among ways of knowing and being known. Each incarnation squares itself up against ideas of feminine virtue and sin, strength and vulnerability, love and rage, as it closes in on a hard-won freedom. Brute is absolutely sure of its capacity to insist not only on the truth of what it says but on the truth of its right to say it.
Rookery by Traci Brimhall
From the graveyards and battlefields of the Civil War to the ancient forests of Brazil, from desire to despair, landscapes both literal and emotional are traversed. Brimhall guides readers through ever-winding mazes of heartbreak and treachery, and the euphoric dreams of missionaries. The end of days, the intoxication of religion that at times borders on terror, and the post-evangelical experience intertwine with the haunting redemptions and metamorphoses found in violence. These tender yet ruthless poems, brimming with danger and longing, lure readers to "a place where everyone is transformed by suffering."
& more black by t'ai freedom ford
By turns tough and sexy, wrapped up in the evolving language and sonics of life, these poems take their cue from Wanda Coleman's American Sonnets as they rhapsodize and dialogue with artists such as Carrie Mae Weems, Glenn Ligon, and Wangechi Mutu, along with many other musicians, artists, and writers. The kinetic energy of ford's words leap off the page in rebellious, stunning, and revelatory fashion—poems that mesmerize with sheer velocity and telling pauses. A Rumpus Poetry Book Club upcoming selection!
Registers of Illuminated Villages by Tarfia Faizullah
Tarfia Faizullah's newest collection extends and transforms her powerful accounts of violence, war, and loss into poems of many forms and voices―elegies, outcries, self-portraits, and larger-scale confrontations with discrimination, family, and memory. Faizullah is an essential new poet whose work only grows more urgent, beautiful, and―even in its unsparing brutality―full of love.
Deaf Republic by Ilya Kaminsky
Deaf Republic opens in an occupied country in a time of political unrest. When soldiers breaking up a protest kill a deaf boy, Petya, the gunshot becomes the last thing the citizens hear—they all have gone deaf, and their dissent becomes coordinated by sign language. At once a love story, an elegy, and an urgent plea, Deaf Republic confronts our time's vicious atrocities and our collective silence in the face of them
Bicycle in a Ransacked City: An Elegy by Andrés Cerpa
These quiet, descriptive poems blaze with an inferno of lamenting and loving muses as a son helplessly watches his father suffer from a debilitating illness. The inquisitive voice of the speaker gently paints an emotional landscape ranging from childhood to the present, while trying to find glimpses of happiness in the imminent sorrow.
Past Lives, Future Bodies by Kristin Chang
Past Lives, Future Bodies is a knife-sharp and nimble examination of migration, motherhood, and the malignant legacies of racism. In this collection, family forms both a unit of survival and a framework for history, agency, and recovery. Chang undertakes a visceral exploration of the historical and unfolding paths of lineage and what it means to haunt body and country. These poems traverse not only the circularity of trauma but the promise of regeneration—what grows from violence and hatches from healing—as Chang embodies each of her ghosts and invites the specter to speak.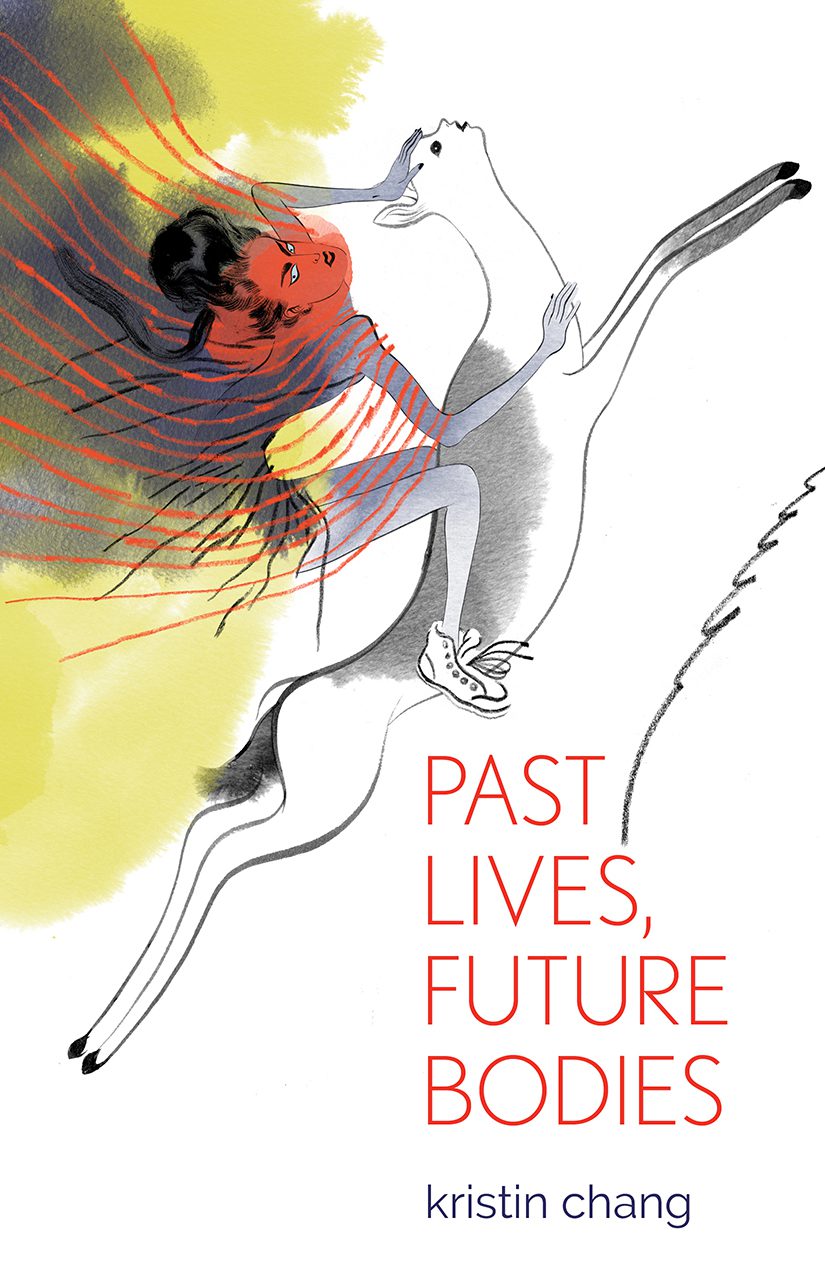 Night Sky with Exit Wounds by Ocean Vuong
In his haunting and fearless debut, Ocean Vuong walks a tightrope of historic and personal violences, creating an interrogation of the American body as a borderless space of both failure and triumph. At once vulnerable and redemptive, dreamlike and visceral, compassionate and unforgiving, these poems seek a myriad existence without forgetting the prerequisite of self-preservation in a world bent on extinguishing its othered voices. Vuong's poems show, through breath, cadence, and unrepentant enthrallment, that a gentle palm on a chest can calm the most necessary of hungers.
SoundMachine by Rachel Zucker
Through heartbreaking, often comic, genre-non-conforming pieces spanning the past ten years, Rachel Zucker trains her relentless attention on marriage, motherhood, grief, the need to speak, depression, sex, and many other topics. Part poetry, part memoir, part lyric essay—and not limited by any of these categories—SoundMachine is a book written out of the persistent feeling that the human voice is both a meaningless sound and the only way we know we exist.
Bestiary by Donika Kelly
Across this remarkable debut collection are encounters with animals, legendary beasts, and mythological monsters—half human and half something else. Donika Kelly's Bestiary is a catalog of creatures—from the whale and ostrich to the pegasus and chimera to the centaur and griffin. Among them, too, are poems of love, self-discovery, and travel from "Out West" to "Back East." Lurking in the middle of this powerful and multifaceted collection is a wrenching sequence that wonders just who or what is the real monster inside this life of survival and reflection. Bestiary questions what it is that makes us human, that makes us whole.
When I Grow Up I Want to Be a List of Further Possibilities by Chen Chen
In this ferocious and tender debut, Chen Chen investigates inherited forms of love and family—the strained relationship between a mother and son, the cost of necessary goodbyes—all from Asian American, immigrant, and queer perspectives. Holding all accountable, this collection fully embraces the loss, grief, and abundant joy that come with charting one's own path in identity, life, and love.
Testify by Simone John
Simone John's first full-length book of poems, experiments with documentary poetics to uplift stories of black people impacted by state-sanctioned violence. The book's first section weaves Rachel Jeantel's testimony in the Trayvon Martin trial with Kendrick Lamar lyrics, fixed form and found poems, and personal artifacts. The second section centers on the audio of the dashboard recording that captured Sandra Bland's fatal police encounter. Excerpts from this exchange are punctuated with elegies for other dead black women, creating a larger commentary about race and gender-based violence. Testify is ultimately a book of witness. It "burdens" its readers "with knowing." Combined, both chapters serve as an unflinching critique of race and gender supremacy in the United States.
In Her Feminine Sign by Dunya Mikhail
At the heart of In Her Feminine Sign is the Arabic suffix ta-marbuta, "the tied circle," a circle with two dots above it that indicates a feminine word, or sign. This tied circle transforms into the moon, a stone that binds friendship, birdsong over ruins, and a hymn to Nisaba, the goddess of writing. With a deceptive simplicity and disquieting humor reminiscent of Wislawa Szymborska, and a lyricism wholly her own, Mikhail slips between her childhood in Baghdad and her present life in Detroit, between Ground Zero and a mass grave, tracing new circles of light. A Rumpus Poetry Book Club upcoming selection!
When Rap Spoke Straight to God by Erica Dawson
When Rap Spoke Straight to God isn't sacred or profane, but a chorus joined in a single soliloquy, demanding to be heard. There's Wu-Tang and Mary Magdelene with a foot fetish, Lil' Kim and a self-loving Lilith. Both grounded and transcendent, the book is reality and possibility. A mix of traditional forms where sonnets mash up with sestinas morphing to heroic couplets, When Rap Spoke Straight to God insists that while you may recognize parts of the poem's world, you can't anticipate how it will evolve. With a literal exodus of light in the book's final moments, When Rap Spoke Straight to God is a lament for and a celebration of blackness.
The Tradition by Jericho Brown
Jericho Brown's daring new book The Tradition details the normalization of evil and its history at the intersection of the past and the personal. Brown's poetic concerns are both broad and intimate, and at their very core a distillation of the incredibly human: What is safety? Who is this nation? Where does freedom truly lie? Brown makes mythical pastorals to question the terrors to which we've become accustomed, and to celebrate how we survive. Poems of fatherhood, legacy, blackness, queerness, worship, and trauma are propelled into stunning clarity by Brown's mastery, and his invention of the duplex―a combination of the sonnet, the ghazal, and the blues―is testament to his formal skill.
Ordinary Beast by Nicole Sealey
The ranging scope of inquiry undertaken in Ordinary Beast—at times philosophical, emotional, and experiential—is evident in each thrilling twist of image by the poet. In brilliant, often ironic lines that move from meditation to matter of fact in a single beat, Sealey's voice is always awake to the natural world, to the pain and punishment of existence, to the origins and demises of humanity. Exploring notions of race, sexuality, gender, myth, history, and embodiment with profound understanding, Sealey's is a poetry that refuses to turn a blind eye or deny. It is a poetry of daunting knowledge.
Sons of Achilles by Nabila Lovelace
Sons of Achilles questions what it means to be in and of a linage of violence. In this collection, Nabila Lovelace attempts to examine the liminal space between violence and intimacy. From the mythical characters that depict and pass down a progeny of violence through their canonization, to the witnessing of violence, Lovelace interrogates the ways violence enters and inhabits a life.
The Amputee's Guide to Sex by Jillian Weise
These poems interrogate medical language and history, imagine Mona Lisa in a wheelchair, rewrite Elizabeth Bishop's poem "In the Waiting Room," address a lover's arsonist ex-girlfriend, and show the prosthesis as the object of male curiosity and lust. Ten years since its first publication, our culture continues to grapple with questions limned in this collection. In a new introduction, Weise revisits and recontextualizes her work, revealing its urgency to our present moment. What are the challenges of speaking "for" a community? How to resist the institutionalization of ableist paradigms? How are atypical bodies silenced? Where do our corporeal selves intersect with our technologies?
Blood, Sparrows and Sparrows by Eugenia Leigh
"Everyone warns us off the rocks. / But what will keep us from the river?" Leigh asks in her debut collection, which pieces together a kind of mythology in which the surreal and celestial coexist with the realities of childhood abuse as an adult speaker grapples with its lasting emotional trauma. Rooted in a place of deep faith and bottomless compassion, Leigh's speaker struggles to remember, and to remind us all, "that to worship is to survive is to be / wholly human."
Head Off & Split by Nikky Finney
The poems in Head Off & Split sustain a sensitive and intense dialogue with emblematic figures and events in African American life: from civil rights matriarch Rosa Parks to former secretary of state Condoleezza Rice, from a brazen girl strung out on lightning to a terrified woman abandoned on a rooftop during Hurricane Katrina. Finney's poetic voice is defined by an intimacy that holds a soft yet exacting eye on the erotic, on uncanny political and family events, like her mother's wedding waltz with South Carolina senator Strom Thurmond, and then again on the heartbreaking hilarity of an American president's final State of the Union address. Artful and intense, Finney's poems ask us to be mindful of what we fraction, fragment, cut off, dice, dishonor, or throw away, powerfully evoking both the lawless and the sublime.
A Fortune for Your Disaster by Hanif Abdurraqib
Hanif Abdurraqib has written a book of poems about how one rebuilds oneself after a heartbreak, the kind that renders them a different version of themselves than the one they knew. It's a book about a mother's death, and admitting that Michael Jordan pushed off, about forgiveness, and how none of the author's black friends wanted to listen to "Don't Stop Believin'." It's about wrestling with histories, personal and shared. Abdurraqib uses touchstones from the world outside―from Marvin Gaye to Nikola Tesla to his neighbor's dogs―to create a mirror, inside of which every angle presents a new possibility. A Rumpus Poetry Book Club upcoming selection!
Oculus by Sally Wen Mao
In Oculus, Sally Wen Mao explores exile not just as a matter of distance and displacement but as a migration through time and a reckoning with technology. The title poem follows a nineteen-year-old girl in Shanghai who uploaded her suicide onto Instagram. Other poems cross into animated worlds, examine robot culture, and haunt a necropolis for electronic waste. A fascinating sequence spanning the collection speaks in the voice of the international icon and first Chinese American movie star Anna May Wong, who travels through the history of cinema with a time machine, even past her death and into the future of film, where she finds she has no progeny. With a speculative imagination and a sharpened wit, Mao powerfully confronts the paradoxes of seeing and being seen, the intimacies made possible and ruined by the screen, and the many roles and representations that women of color are made to endure in order to survive a culture that seeks to consume them.
Beastgirl & Other Origin Myths by Elizabeth Acevedo
Beastgirl & Other Origin Myths is a collection of folkloric poems centered on the historical, mythological, gendered, and geographic experiences of a first-generation American woman. From the border in the Dominican Republic, to the bustling streets of New York City, Acevedo considers how some bodies must walk through the world as beastly beings, and how these forgotten myths be both blessing and birthright.
Soft Science by Franny Choi
Soft Science explores queer, Asian American femininity. A series of Turing Test-inspired poems grounds its exploration of questions not just of identity, but of consciousness―how to be tender and feeling and still survive a violent world filled with artificial intelligence and automation. We are dropped straight into the tangled intersections of technology, violence, erasure, agency, gender, and loneliness.
Cenzontle by Marcelo Hernandez Castillo
In this highly lyrical, imagistic debut, Marcelo Hernandez Castillo creates a nuanced narrative of life before, during, and after crossing the US/Mexico border. These poems explore the emotional fallout of immigration, the illusion of the American dream via the fallacy of the nuclear family, the latent anxieties of living in a queer brown undocumented body within a heteronormative marriage, and the ongoing search for belonging. Finding solace in the resignation to sheer possibility, these poems challenge us to question the potential ways in which two people can interact, love, give birth, and mourn―sometimes all at once.
Odes to Lithium by Shira Erlichman
Odes to Lithium is a collage of moments―a love letter of sorts―praising the medication for Bipolar Disorder. Poems boldly confront stigmas of the mentally ill, showing a much needed point of view on how this medication has drastically changed the speaker's life for the better. A positive spin on the heavy subject of the everyday battle of mental illness. A Rumpus Poetry Book Club upcoming selection!
EXCLUSIVE COVER REVEAL AT THE RUMPUS ON MONDAY, 4/15!
The Crazy Bunch by Willie Perdomo
In his fourth collection, The Crazy Bunch, Willie Perdomo returns to his beloved neighborhood to create a vivid, kaleidoscopic portrait of a "crew" coming of age in East Harlem at the beginning of the 1990s. In poems written in couplets, vignettes, sketches, riffs, and dialogue, Perdomo recreates a weekend where surviving members of the crew recall a series of tragic events: "That was the summer we all tried to fly. All but one of us succeeded."
Calling a Wolf a Wolf by Kaveh Akbar
This highly anticipated debut boldly confronts addiction and courses the strenuous path of recovery, beginning in the wilds of the mind. Poems confront craving, control, the constant battle of alcoholism and sobriety, and the questioning of the self and its instincts within the context of this never-ending fight.
Autobiography of Red by Anne Carson
The award-winning poet reinvents a genre in a stunning work that is both a novel and a poem, both an unconventional re-creation of an ancient Greek myth and a wholly original coming-of-age story set in the present. By turns whimsical and haunting, erudite and accessible, richly layered and deceptively simple, Autobiography of Red is a profoundly moving portrait of an artist coming to terms with the fantastic accident of who he is.
blud by Rachel McKibbens
McKibbens's blud is a collection of dark, rhythmic poems interested in the ways in which inherited things―bloodlines, mental illnesses, trauma―affect their inheritors. Reveling in form and sound, McKibbens's writing takes back control, undaunted by the idea of sinking its teeth into the ugliest moments of life, while still believing―and looking for―the good underneath all the bruising.
Heed the Hollow by Malcolm Tariq
Heed the Hollow introduces the work of Malcolm Tariq, whose poems explore the concept of "the bottom" across blackness, sexuality, and the American South. These lyrics of queer desire meet the voices of enslaved ancestors to reckon with a lineage of trauma that manifests as silence, pain, and haunting memories, but also as want and love. In bops, lyrics, and erasures, Heed the Hollow tells of a heritage anchored to the landscape of the coastal South, to seawalls shaped by forced labor, and to the people "marked into the bottom / of history where then now / we find no shadow of life." From that shadow, the voices in these poems make their own brightness, reclaiming their histories from a language that evolved to exclude them. A Rumpus Poetry Book Club upcoming selection!
Trouble the Water by Derrick Austin
Rich in religious and artistic imagery, Trouble the Water is an intriguing exploration of race, sexuality, and identity, particularly where self-hood is in constant flux. These intimate, sensual poems interweave pop culture and history—moving from the Bible through several artistic eras—to interrogate what it means to be, as Austin says, fully human as a "queer, black body" in twenty-first century America.
Life on Mars by Tracy K. Smith
With allusions to David Bowie and interplanetary travel, Life on Mars imagines a soundtrack for the universe to accompany the discoveries, failures, and oddities of human existence. In these brilliant new poems, Tracy K. Smith envisions a sci-fi future sucked clean of any real dangers, contemplates the dark matter that keeps people both close and distant, and revisits the kitschy concepts like "love" and "illness" now relegated to the Museum of Obsolescence. These poems reveal the realities of life lived here, on the ground, where a daughter is imprisoned in the basement by her own father, where celebrities and pop stars walk among us, and where the poet herself loses her father, one of the engineers who worked on the Hubble Space Telescope.
Brooklyn Antediluvian by Patrick Rosal
Patrick Rosal's fourth collection of poems is ignited by the frictions of our American moment. In the face of relentless violence and deepening racial division, Rosal responds with his own brand of bare-knuckled beauty. Rosal finds trouble he isn't asking for in his unforgettable new poems, whether in New York City, Austin, Texas, or the colonized Philippines of his ancestors. But trouble is everywhere, and Rosal responds in kind, pulling no punches in his most visceral, physical collection to date. "My hand's quick trip from my hip to your chin, across / your face, is not the first free lesson I've given," Rosal writes, and it's true―this book is full of lessons, hard-earned, from a poet who nonetheless finds beauty in the face of violence.
the black maria by Aracelis Girmay
Taking its name from the moon's dark plains, misidentified as seas by early astronomers, the black maria investigates African diasporic histories, the consequences of racism within American culture, and the question of human identity. Central to this project is a desire to recognize the lives of Eritrean refugees who have been made invisible by years of immigration crisis, refugee status, exile, and resulting statelessness. Girmay elegizes and celebrates life, while wrestling with the humanistic notion of seeing beyond: seeing violence, seeing grace, and seeing each other better.
---