What to Read When You're Crip and Unafraid
This month we are excited and honored to release Laura Hershey: On the Life & Work of an American Master, the first collection of poems written by poet and disability activist Laura Hershey, a key player in the legalization and enforcement of the Americans with Disabilities Act. The book also contains essays by Eli Clare, Constance Merritt, Declan Gould, and Leah Lakshmi Piepzna-Samarasinha discussing the importance of Hershey's poetry—which was unapologetically crip and queer in a time when it was dangerous to be both. It's a volume we wished had been on our bookshelves many years ago.
Whether rooted in social justice poetry, memoir, fiction, or critical studies, disabled voices need ISBN numbers and they need to be made accessible—otherwise we're only validating a partial story. In thinking about the importance of this, we've compiled a list of books written by writers with disabilities. These are books we return to for sustenance. Broad in subject matter and aesthetics, these authors and their books validate our multiple and complex identities, speak to our insecurities, and, most importantly, encourage us to be fierce.
***
The Perseverance by Raymond Antrobus
I'm wild for this debut full-length collection by Deaf kin Raymond Antrobus. It's more than just seeing parts of my cultural background and linguistic inheritance represented in English on the printed page—it's also the absolute bliss of having my own understanding of sonic play and multi-modal hybrid meditations on the hearing world represented in meters and cadences and syntactical patternings that make sense to me in my hands. I wept when I read this book for the first time. It's not just good by your hearing English standards; it's phenomenal and unprecedented and unmatched by our Deaf ones, too. – Meg Day
The Marrow's Telling: Words in Motion by Eli Clare
I read this book of poems early in my formal education as a poet, and it was the first time I'd been invited to think about geography and ecology as important parts of our lineage and inheritance, right alongside intergenerational trauma and cultural fluency. Clare's work is direct in addressing issues of class privilege, racism, and ableism while also showing how these topics require us to shift our understanding of what poetic form can do. Clare helps remind me that my story doesn't look like anyone else's, so why should my poems? – Meg Day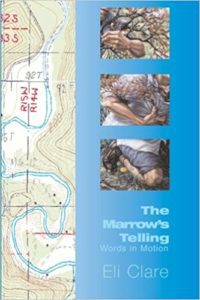 Road Song by Natalie Kusz
In a quest to live a freer life, a young Kusz moves from California to Alaska with her parents and siblings. Once in Fairbanks, the family's already dire financial existence worsens as a bad winter hits; as a result, they face poor housing conditions—sleeping in a makeshift room attached to a trailer or in a tent—and lack of money and food. Then, a six-year-old Kusz nearly dies in an attack by a neighbor's dog; she loses one of her eyes and part of her cheek and jaw. She spends the next ten years plagued by infections, reconstructive surgeries, and the social stigma attached to disfigurement. Kusz writes in such a precisely poetic way, the reader becomes that six-year-old girl. This was one of the first memoirs I read, and it still remains one of the best I've come across. The writing is so detailed and simply phenomenal. – Niki Herd
Tonguebreaker by Leah Lakshmi Piepzna-Samarasinha
Some poets shy away from the idea that poetry is one of our most formidable tools for archive; I imagine they think it lets them off the hook. Tonguebreaker doesn't shirk any such honor or responsibility and adds to this powerhouse writer's oeuvre of absolutely necessary queer crip archive. The poems in this collection map us into our own survival, but also into the survival of art and the survival of ideas. Tonguebreaker is flexing punk muscle and hard-femme might, making me less afraid of the world and more afraid of not doing right by my kin. – Meg Day
Voyage of the Sable Venus by Robin Coste Lewis
What excites me about this first book of poems—and why I teach it whenever possible—is its formal rigor based in both ekphrastic poetry and documentary poetics. Lewis focuses on the black female body and its portrayal/objectification in Western art from ancient to contemporary times; the catalogue she creates from her research allows the book to become its own artistic repository or archive. The collection is a tour-de-force on its own, but the fact that Lewis wrote the book post brain injury shows nothing short of black girl determination and brilliance. – Niki Herd
Sister Outsider by Audre Lorde
Sister Outsider is essentially a love letter to black women in the form of essays and speeches. The book covers a wide range of territory: socioeconomic inequality in America, white feminism, and the existential questions presented by Lorde's cancer diagnosis. What I appreciate about this book is the sacredness with which Lorde holds black women—and her bravery for calling out the social and physical violence black women have endured under the hands of white women and black men. These essays still remain relevant today. – Niki Herd
Plaintext by Nancy Mairs
Plaintext, written in the vein of feminists such as Tillie Olsen and Adrienne Rich, is a compilation of essays largely concerned with the ways women navigate the world in a male-dominated society. The book includes Mairs's much anthologized essay "On Being Cripple," but there are other gems here, too. Mairs writes frankly about the image of the disabled body in a society that objectifies women, about her life with multiple sclerosis and depression, and about the time she spent in a mental institution. This was the first collection of essays I read that spoke about physical and mental disability with such candor and command. – Niki Herd
A Protocol for Touch by Constance Merritt
Queer crip poet and activist Laura Hershey introduced me to queer crip poet Constance Merritt's work. What I love about A Protocol for Touch is how deftly Merritt handles both her power and her tenderness; these poems knock me back but hold me close. I remember reading it for the first time and realizing—with joy, with grief—how lonely I'd been. Sometimes the invective, as a form, can heal across time and identity. Merritt doesn't apologize, and I didn't want to either. When I spend time with this book, I feel like I'm relearning inherited form for the first time and finally from the right teacher: intrepid, queer, and disabled. – Meg Day
The Collected Schizophrenias by Esmé Weijun Wang
I love the way Wang educates her reader about schizophrenia and schizoaffective disorder, but not at the expense of intimacy. In each essay, Wang writes with an authoritative voice rooted in the world of science and also as a person who inhabits a mind and body filled with the pain and uncertainty of mental illness. What I appreciate most is how Wang, as a researcher, refuses easy answers to complex questions. Just when the reader thinks she knows where the writer stands on a charged subject, the next paragraph offers a contrasting point-of-view that Wang acknowledges as equally valid. It's a way of writing that shows vulnerability—and this what I'm drawn to right now, and what we need more of in the world—vulnerability and complexity. – Niki Herd
Cyborg Detective by Jillian Weise
I'm always learning from cyborg poet, performance artist, and disability activist Jillian Weise. Her first book, The Amputee's Guide to Sex, was a warning shot that tried to—but couldn't—prepare us for the benevolence of the multi-genre, multimedia career that's followed. Always sharp-witted, sophisticatedly savvy, and commanding in surprisingly vulnerable ways, Weise's poems remind me that the stakes are high, but that doesn't mean we can't have fun. I can't wait to see how this forthcoming book shakes things up. – Meg Day
And to close out this wonderful list, we just had to include Laura Hershey: On the Life & Work of an American Master, out now from Pleiades Press!  – Ed.
Laura Hershey: On the Life & Work of an American Master, edited by Meg Day and Niki Herd
Laura Hershey was a vital, brilliant, and until now lesser-known American poet who, during her short life, was a major invigorating force in the movements for disability rights, queer poetries, and activist poetics. Her poems speak from the margins with the force of truth—eloquently, ferociously, and beautifully. This volume of the Unsung Masters Series, carefully curated by poets Meg Day and Niki Herd, reintroduces a wide selection of Hershey's writing to a new generation of readers. Also included are essays about her life and work by other poets and critics as well as a portfolio of photographs.
---