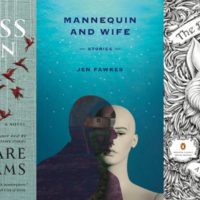 What to Read When You Suspect That Time Is Not a Line
I am a late bloomer in every imaginable way. I earned an MFA at thirty-six, a PhD at forty-four, and when my first two books release (September 2020 and May 2021), I will be forty-six. Maybe my own meandering chronology—one filled with detours and false-starts—explains my urge to question the strict chronology of time. Or maybe my detours weren't detours at all, but were, and still are, and always will be, my central storyline.
The notion of linearity is so ingrained in us that it is nearly impossible to put aside. But if we study alternate narratives—those constructed of objects, for instance, rather than words, the "physical record" of human habitation—we discover a tale more vertical than horizontal. Twelve hundred years ago, the Plum Bayou people inhabited central Arkansas, where I live now. Most of their mounds remain unexcavated, and later inhabitants buried the Plum Bayou's trash—pottery shards, spearpoints, stone tools, crystal arrowheads, bits of quartz and copper and conch shell and bone—under layers of their own debris, and so on and so on. But even today, the Plum Bayou people are still here. Only inhabiting a different layer of time.
I once thought of time as a tight spiral, recursive, folding back not to the same spot but to one a hair's breadth away, moving in tandem with neighboring threads, gathering thickness as it sped along. But now I think of time as an ocean, its waters churning, evaporating, replenishing. The water contained in each of time's waves may be a mixture of known and unknown, but the wave is still a wave. It will still wash over us, still knock us flat if we are not careful. If we do not take heed.
In addition to bringing me immeasurable joy, each of the books below has helped me grapple with time in my work, and in my life.
***
The Blind Assassin by Margaret Atwood
The Blind Assassin weaves together two narratives—a first-person account of the life of Iris Chase, and a book supposedly penned by Iris's dead sister. In story A, we get the span of Iris's life from girlhood to old age; story B is that of a pair of illicit lovers, one of whom is telling the other a fantastic science fiction tale. Time is investigated in several ways here, by highlighting how even those circumstances we are unable (or choose not) to see can tragically alter the trajectory of not only our story, but the stories of those around us.
Kindred by Octavia Butler
In this book, Dana, a young Black woman living in the late 1970s, finds herself whisked away to a plantation in antebellum Maryland, where she is forced to repeatedly save the life of her white predecessor Rufus, who once owned and raped one of her ancestors. Though Butler primarily wrote kickass science fiction, aside from the time-travel aspect of this book, it presents in a realist vein. This tension allows Butler to interrogate time in two ways at once—in the sense of Dana's large physical leaps through it, and also in the sense of her lineage, or what has been thrust upon her by her progenitors.
Welcome to Hard Times by E. L. Doctorow
E. L. Doctorow's first book, this is a noir-tinged Western. A Bad Man rides into a Western town called Hard Times and levels the place. Blue, the mayor and narrator, assembles a pseudo-nuclear family that includes a prostitute named Molly and an orphan named Jimmy, and invites others to help rebuild Hard Times. The story is presented as a journal Blue is keeping, in which he's recording these events, but ironically, Blue fails to correct for either history or human nature, so sets the scene for a repeat disaster. Here time is a cyclical monster that is coming for us all if left unexamined, unacknowledged.
Never Let Me Go by Kazuo Ishiguro
Never Let Me Go opens with Kathy H, who's working as a "carer" and reminiscing about the boarding school she attended with close friends Tommy and Ruth. As the story unfolds, we learn that Kathy is a human clone and that, though she is only thirty, her life will soon end. One of the things that stands out to me most about time here is how it seems to shrink as the story gains momentum. Ishiguro transports us seamlessly from Kathy's childhood, with its fairly normal conception of a "future," to her young adulthood, in which the only way Kathy is able to envision a future is by remembering her past.
We Have Always Lived in the Castle by Shirley Jackson
Ten years after the entire Blackwood family is poisoned one night at the dinner table, the remaining members of the clan—Merricat (our narrator), her sister Constance (the supposed killer), and enfeebled uncle Julien—live in the family home, shut away from the townsfolk who hate and fear them. But when a visitor disrupts the precarious order of their world, the Blackwood sisters must confront the truth of their own histories. The recursive nature of time dominates this story, as evidenced by Merricat's pathological need for routine and Julien's incessant reliving of the night the family was murdered.
The Book of X by Sarah Rose Etter
On one hand, this is a coming-of-age story; on the other, it is the surreal, inventive, nightmarish tale of Cassie, a young woman whose body is literally tied in a knot. What gets me most about this story is its scarcity, its eschewing of exterior description or grounding in a specific visual reality. Living inside Cassie, the reader is fed scraps of information, and has only Cassie's raging, surging, raw emotions to cling to. Yet this book manages to present a resounding meditation on what it is to be a woman at any time, in any place, one that feels to me both timeless and completely current.
Chronicle of a Death Foretold by Gabriel García Márquez
This novella's first sentence announces that a man named Santiago Nasar will be killed, and at the book's end, Santiago Nasar is killed. In between, we learn that a bride whose husband discovered she wasn't a virgin has named Nasar as her lover, and that the bride's brothers are stalking Nasar through the streets of the town. They tell everyone they encounter that they intend to kill Nasar, yet no one warns him. So the question that ends up driving this narrative isn't what will happen next but how can they all stand by and let this happen. The whole story takes place in a single day, which heightens its tension. I first read this book at age nine, and I still think about it today.
The Loved One by Evelyn Waugh
A satirical look at the treatment of death/dying/the dead in mid-century American, The Loved One is a purported love story. Dennis, an aspiring poet who works at a pet cemetery (The Happier Hunting Grounds), falls for Aimee, a cosmetician who makes up the faces of the recently deceased at an absurdly ostentatious funeral home/burial complex (Whispering Glades). Though the book is set over a fairly short span of time, the ways in which it grapples with death (and therefore life), make it pretty timeless. There's also a film version of The Loved One (1965) that is truly spectacular.
The Illness Lesson by Clare Beams
This is the story of Caroline Hood, who along with her essayist father opens a school (Trilling Heart) for girls in Massachusetts in 1871. The notion of time as recursively dangerous haunts the narrative in several ways—the return of the red birds that have not been seen since the spectacular and very public failure of Samuel Hood's Birch Hill Colony years earlier, for one. But more central for Caroline is her fear that the illness that she believes killed her mother will also descend on her. It feels as if all the novel's elements—setting, characters, objects, themes—are caught in a never-ending loop until the moment Caroline realizes she can (and should) wrest the narrative reins away from her father, and steer the ship herself.
The Intuitionist by Colson Whitehead
This is the story of Lila Mae Watson, the first Black female elevator inspector in a world where elevator inspectors are separated into warring camps—Intuitionists and Empiricists. When an elevator that Lila, a top-notch Intuitionist, has inspected goes into "freefall," Lila suspects sabotage and sets out to clear her name. What she learns instead is that the man who founded the Intuitionist school only did so as a joke. But Lila also learns that she alone is capable of designing the fabled "perfect" elevator, known as the Black Box. This novel is chockablock with satirical commentary and employs rapid-fire pacing, then defies expectation, ending with Lila Mae contemplating a future that won't exist without her and her "Intuition," which I interpret as a kind of hope.
True Grit by Charles Portis
I will always love Mattie Ross. I think many people know this story—fourteen-year-old Mattie hires Federal Marshal Rooster Cogburn to help her hunt down the man who killed her father. The book itself is faced-paced, witty, and lousy with crackling dialogue and ironic circumstances. Some have suggested that Mattie's voice is the source of the book's wide and long-standing appeal, and I'd  tend to agree. What's particularly fascinating about her voice, however, is that it is the product of five decades of authorial distance, yet at the same time, seems to fully belong to Mattie at age fourteen. Which is just, you know, pure magic on the part of Charles Portis.
The Secret History by Donna Tartt
This is the story of a group of classics students at an exclusive northeastern college, narrated by Richard, an outsider who manages to gain entry. A bacchanalian revel goes awry and leads to murder, at which time Bunny, a group member who missed the bacchanal, begins blackmailing the others, and the group decides they must kill Bunny as well. Trying to hide their crimes sets off a chain of events that leaves most of the group members' lives in tatters. This is a vast, sprawling story but what is perhaps most interesting regarding time here is that the murder and the killers are introduced up-front, leading the novel to be labeled "a murder mystery in reverse."
Gob's Grief by Chris Adrian
This is primarily the story of Gob Woodhull, whose twin brother Tomo is killed at age eleven while bugling for a Union Company in the Civil War, and his obsessive attempts to build a machine that will allow the dead to return to the world of the living. Characters include the poet Walt Whitman and the feminist and spiritualist Victoria Woodhull (who is cast as Gob's and Tomo's mother). This book goes everywhere and does everything, but perhaps the most fetching thing about it, for me, is its unshakeable conviction that emotion is powerful enough to defy death. In the book's wild, romantic, unrelenting refusal to bow down before time, Gob's Grief says "we can rewrite history," then proceeds to build a world in which that very circumstance can occur.
Beloved by Toni Morrison
Set in Ohio in 1877, Beloved tells the story of Sethe, a Black woman who ran away from a Kentucky plantation seventeen years earlier and, to prevent her children from being caught and returned to bondage, slit the throat of her own infant daughter. In the book's present, the child Sethe murdered manifests in human form, a girl known as Beloved, and moves in with Sethe and her family. Morrison manages to center the kind of recursive haunting other authors tend to relegate to the margins by embodying it in the character of Beloved. And, throughout this astonishing and layered narrative, the constraints of time are dissolved again and again, so that past, present, and future coexist, reminding the reader that linearity can, and probably should, be questioned.
The Bloody Chamber by Angela Carter
The first book by Angela Carter I read was The Sadeian Woman and the Ideology of Pornography, in an undergraduate Anthropology class called "Taboo and Transgression." But it was my first reading of The Bloody Chamber a decade later that changed my life. The collection is comprised of stories that reimagine various fairy tales and folktales through a feminist lens, but its main takeaway with regard to time is that the only place we will ever master it is on the page, where old things become new become old become new become old become new again.
And to close out this wonderful list, we just had to include Jen's debut collection, Mannequin and Wife: Stories, forthcoming on September 2 from LSU Press! – Ed.
Mannequin and Wife: Stories by Jen Fawkes
The imaginative tales in Mannequin and Wife trip seamlessly across borderlands, navigating comedy and tragedy, psychological and magical realism, the mundane and the marvelous. A criminal mastermind's protégé plots the destruction of Mount Rushmore from within an extinct volcano. A man buys a drive-in theater and transforms it into a carnival sideshow. An attorney puzzles over how to leave someone his deceased client's heart. Jen Fawkes's award-winning stories examine the vagaries of human relationships, teasing out the startling complications that arise from our entanglements with those we loathe and those we love.
---