What to Read When You Want Subversive Remakes
As a girl, I'd largely considered folk and fairy tales to be entertainment wrapped up with a moral lesson and sprinkled with romance, magic, and the sinister. By my troubled teens, I was thoroughly disabused of the myth of "happily ever after," but it wasn't until the late 1990s, when I read the reimagined fairy tales in Emma Donoghue's Kissing the Witch: Old Tales in New Skins that I fully realized how limiting and damaging most traditional and Disneyfied fables are.
For instance, consider how Donoghue's Kissing the Witch counters Cinderella's prescriptive ashes-to-princedom story with an exhilarating tale wherein Cinderella and the Fairy Godmother wind up together, a redress of heterosexual norms and the trite trope of handsome, elite heroes who rescue and elevate distressed women, making them forever happy. I cheered for the narrative possibilities, and the ensuing cultural awakenings.
Fast-forward almost a quarter of a century and oppressive mythical tropes still riddle traditional storytelling and popular culture: female containment, toxic masculinity, heterosexual norms, and white supremacy. One urgent, powerful solution? Create and consume better tales. Below is a list of authors and books that reclaim the compelling elements of well-known myths and traditional fables to conjure more complex, necessary, and illuminative stories.
***
The Other Mothers: Two Women's Journey to Find the Family That Was Always Theirs by Jennifer Berney
Once upon a time, a same-sex couple married, tried to have a baby, and faced obstacles rooted in society's insistence on the narrowest definition of the nuclear family. Sound familiar? Exactly. Jennifer Berney's powerful debut memoir The Other Mothers centers queer parenting and exposes the patriarchal bias within medicine and outside of it. Beyond Berney's personal struggles with infertility and securing donor sperm, the memoir highlights the disturbing history of sperm banking, the historical exploitation of the female body, the frequent dismissal of women's medical concerns, and our culture's continued insistence on the traditional family model. Faced with repeated obstacles and losses, Berney is forced to seek conception beyond fertility clinics and it's there that her book and journey reveal the uplifting power of activism, community, and inclusion. We need more of these representative stories—real and imagined.
Other Small Histories by Darien Hsu Gee
Too often fairy tales depict generic characters driven by hollow desires and sated by empty resolutions. In powerful juxtaposition, Darien Hsu Gee begins Other Small Histories with an altogether different "once upon a time." Hsu Gee reconstructs her matriarchal line through pivotal fragments and pays homage to very real characters with resonant wants, needs, struggles, obstacles, and triumphs. In this way, Hsu Gee ultimately makes flesh her family, her history, and her complete self. These poems are a quiet but potent antidote to the willful erasure of women's—and especially women of color's—histories, agency, and truth.
An Untamed State by Roxane Gay
From Belle to Rapunzel to Snow White, fairy tales' female protagonists are romanticized, and their storylines too often normalize female capture. Roxane Gay's debut novel delivers searing pushback. The book begins: "Once upon a time, in a far-off land, I was kidnapped by a gang of fearless yet terrified young men with so much impossible hope beating inside their bodies it burned their very skin and strengthened their will right through their bones." The novel repositions female capture, our brutalized bodies and psyches, and male violence within its rightful realm of horror. The narrative is also gut-punching cultural and political commentary on colonialism, white domination, rabid masculinity, the insidious rhetoric of female purity, forced poverty and its resulting crime and desperation, internalized racism, and the devaluing of human life. In short, An Untamed State is a fierce middle finger to mainstream stories of women's powerlessness.
Disappear Doppelgӓnger Disappear by Matthew Salesses
Fairy tales tend to peddle superiority and perfectionism. Amid threads of fantasy, romance, magic, and evil, there is also the specter of the better self that haunts the supposed hero whose valiant archetype lies squarely within Westernism: questing, white male characters who are emasculated by dark forces, redeemed through violence and conquest, and then elevated to manhood and victory. Enter Salesses's novel about an adopted Korean American man plagued by a missing doppelgӓnger, tormented by racism and the pressure to conform, and fueled by an insistence on being seen and counted. On mattering and belonging. Not because he's a hero, but because he's his own unique human, and inherently equal and worthy.
On Tyranny: Twenty Lessons from the Twentieth Century by Timothy Snyder
The fairy tale Rumpelstiltskin begins with a big lie—one born out of a father's egotistical need to impress the king and royal court, and for which his daughter suffers the penalty. The daughter is tasked with spinning gold, and failure will result in her death. So, she agrees to an untenable bargain and sacrifices her firstborn. As a child, this story frightened me because Rumpelstiltskin was evil. As an adult, it terrifies me because I see its chilling parallels in our contemporary capitalist culture: how women, the poor, the undocumented, and people of color are valued by how much we can earn and spend; and the penalties for failing to be profitable are severe and, increasingly, deadly. Snyder's On Tyranny is a concise and brilliant treatise on the Big Lie that is political rhetoric and propaganda—dangerous discourse, malignant misinformation, and corrupt capitalism that pervade our tech-driven culture like never before. Bottom line: the sure way to counter Big Lies is to be relentless with the facts and unwavering in the truth.
Asking for It by Louise O'Neill
Most fairy tales posit cautionary morals that police women and victim-blame, and do so with such creeping subtlety we hardly notice its chokehold on our culture—Little Red Riding Hood shouldn't have strayed from the path in the woods, talked with the Big Bad Wolf, or worn a flaming-red cloak that called attention to her. But Irish author Louise O'Neill's cannonball of a novel, Asking For It, blasts through the gaslighting and scapegoating and lays bare the horrible truths of rape culture and its victims, perpetrators, and co-conspirators. That this book is a disturbing read is the point; too many are complicit in our rampant rape culture and need to face their bias and accountability.
There There by Tommy Orange
Many cultures tell similar stories differently. The contrast is perhaps most stark when it comes to First Nations' folklore. Whereas too much of Western mythology whitewashes, First Nations' stories honor the truth of their history, identity, and traditions. The stakes couldn't be higher: survival, preservation, in particular the natural world and sustainable living, and communing with the sacred. Orange's debut novel, There There, centers First Nations tribes and is rich with their history and reclamation, in all its horror and defiant hope respectively. The dearth of Indigenous voices in the Western canon makes There There an all too rare quest story of First Nations characters journeying to celebrate their identities, preserve endangered traditions, reconnect with their ancestors, and proclaim their belonging—an undertaking buckling beneath the weight of white supremacy, assimilation, genocide, terrorism, and trauma. This standout book makes clear that trite fairy tales and patriarchal Western mythology—and history books—are criminally lacking, deceptive, and coercive.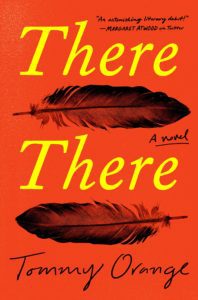 And I Do Not Forgive You: Stories and Other Revenges by Amber Sparks
Don't be fooled by this collection's delightful, playful cover. It bears a hatchet, after all. And yes, indeed, Sparks came to slay. These are the modern-day fairy tales we need and deserve: weird and wonderful stories that chop down the oppressive myth of the hero prince, destroy the dangerous trope of the trapped princess, and topple with palpable ruthlessness and exhilaration every false, overdone ode to "boy meets girl" and "happily ever after." Take Alice in Spark's story "Through the Looking Glass." Alice exists in a surveilled dystopia where men in suits and bulletproof vests patrol and chronicle her BDSM role-playing existence, and where despite it all she claims love on her terms, however short-lived it proves to be. Look, Sparks's stories rage, the poison isn't in the glossy red apple, but in the limited, prejudiced, prescriptive roles we're told we have to exist within. Sparks wildly, memorably, draws a line through such patriarchal propaganda and portrays the power of a sharp-bladed pen.
Her Body and Other Parties: Stories by Carmen Maria Machado
These stories tear the traditional apart and remake tales in full Frankensteinean horror and glory. Machado's stories pulse with menace—for women, danger is ever-present and we are forced to be hyper vigilant in the face of pervasive male arrogance, entitlement, and hostility. Yet despite the portrayal of the very real brutalities too often perpetrated on women, there's an empowering deliciousness in these stories which reclaims women's fear and shame, brings race and queerness to the forefront, and affords us thrilling choices, pleasures, and freedoms. Machado raises the bar for what stories and representation can and should do to extraordinary heights.
And to close out this wonderful list, we just had to include Ethel's new collection of stories, In the Event of Contact, forthcoming on May 18 from Dzanc Books! – Ed.
In the Event of Contact: Stories by Ethel Rohan
In the Event of Contact chronicles characters profoundly affected by physical connection, or its lack. Among them, a scrappy teen vies to be the next Sherlock Holmes; an immigrant daughter must defend her decision to remain childless; a guilt-ridden woman is haunted by the disappearance of her childhood friend; a cantankerous crossing guard celebrates getting run over by a truck; an embattled priest with dementia determines to perform a heroic, redemptive act, if he can only remember how; and a young girl navigates a crippling aversion to touch, even from her sisters. Amid backgrounds of trespass and absence, the indelible characters of In the Event of Contact seek renewed belief in recovery, humanity, and the remains of wonder.
---