Rubén Degollado's work is widely published, and has been anthologized in Living Beyond Borders and Nepantla Familias. His first novel, Throw (Slant Books), is set in the Río Grande Valley of Texas, where Degollado and his family have lived for generations.
This year saw the publication Degollado's second novel, which Kirkus Reviews dubbed one of the most anticipated books of the fall, The Family Izquierdo (W.W. Norton). It is a gorgeous, rich, big-hearted novel that follows the lives of the fictional Izquierdo family of McAllen, Texas. It opens in 1958 with a young couple, Octavio and Guadalupe Izquierdo, searching for a lot on the US side of the border to build a home for themselves and their young son. McAllen "is the place to be," declares Octavio, because this "is where all of the jobs are now." In the ensuing pages, we experience three generations of Izquierdos searching for their idea of happiness and fulfillment—what some might call the American Dream.
Though his lush narrative is brimming with evocative descriptions of multigenerational Mexican and Chicano family dynamics, spiritualism, and struggles, Degollado tells an epic story of untidy familial love and expectations that is as universal in scope as it is specific in culture and place. Degollado writes with an assured authority and offers such a deep understanding of, and affection for, this particular Texas city that the reader is effortlessly transported into the midst of this community and the eponymous Izquierdo family. As the writer Luis Alberto Urrea observed about Degollado's novel, "[a]nyone with a family will find themselves in these pages."
I had the opportunity to interview Degollado over email about The Family Izquierdo, his writing process, literary inspirations, and entering the writing life without an MFA.
***
The Rumpus: Your novel is filled with wonderful, fully realized characters. In fact, you have such a large cast, you include a family tree in the beginning of the book. Could you tell us about what inspired you to write this novel?
Rubén Degollado: In 1981, author Toni Morrison gave a speech to the Ohio Arts Council. She said, "If there's a book that you want to read, but it hasn't been written yet, then you must write it." In the late 90s when I discovered Latin American, Chicano, and Latino fiction, I found a wealth of great stories and novels. I found Rudolfo Anaya, Sandra Cisneros, Ana Castillo, Helena María Viramontes, Isabel Allende, Victor Villaseñor, Cristina García, Rolando Hinojosa Smith, Tomás Rivera, Gabriel García Marquez, Américo Paredes, and so many more. These powerful books were wonderful, informed the kind of writer I am today, and inspired me to write my own stories. However, none of them quite told the stories I wanted to read. For one, many of them were about Latinos immigrating to the United States, and for another, very few were about the place where my family have lived for generations, the Río Grande Valley of Texas. Furthermore, I didn't see the convergence and confrontation of different faith traditions I grew up with including Catholicism, full gospel Christianity, curandismo (folk healing), and brujería (witchcraft). Nor did I see work that focused on one family over generations that delved into individuals' lives. So this was what I wrote: an intergenerational family epic that comes to terms with how faith, superstition, and belief define a family, all told through chapters that work individually as stories, but come together to tell an overarching story about one family, the Izquierdos of McAllen, Texas. I didn't know it at the time I started, but I was following Toni Morrison's advice to write the story I wanted to read, hoping someone else would want to read it too.
Rumpus: Your novel is made up of interconnected short stories. How did you decide upon this structure and the order of the stories?
Degollado: It came together over time: decades, in fact. I wrote one short story, "Turroco," and got it published in Hayden's Ferry Review in 1998. And when I sat down to write my next story, I found myself writing about the Izquierdos again. And this repeated itself until these were the only stories I was writing and publishing. And then I found I was writing something between a collection of stories and a novel. And because the Izquierdos are a large family with grandparents, their ten children, and their children, I didn't want individual family members to get lost in the mix. In big families, that can tend to happen. But if you slow down, have conversations with individuals, you see how their unique, wonderful stories blend in with the story of the whole family in its entirety. Chapters about individuals that read like short stories, interspersed with vignettes from the past about the grandparents Papa Tavo and Valentina, was for me the only way this book could have been written. What I had on my hands was a multi-perspective novel. And with a little rewriting, I found it easy to place these stories in a chronological order, interspersed with vignettes from a happier past to emphasize what has been lost in the present. The order also follows the traditional story structure with an inciting incident, a climax, quieter moments in between, and a denouement which you see in the epilogue.
Rumpus: When did you start writing this novel, and did you encounter any particular obstacles to completing it?
Degollado: The biggest obstacle for me was a belief that it would ever be published. I'd been writing stories for years, getting the first story published in 1998, then publishing other Izquierdo stories in journals once a year or so. One story found itself turning into a self-contained Izquierdo novel: my YA novel, Throw, which is about Cirilo Izquierdo, one of the grandchildren you see frequently in The Family Izquierdo. I tried unsuccessfully for decades to get it published. Around 2015, I tried a few publishers again and a few years later, my wonderful editor friend, Gregory Wolfe at Slant Books, believed in it and published it. It did well and won several accolades. This gave me the courage to put forth The Family Izquierdo, which was waiting in the wings and had also been rejected several times. This time I had enough courage to seek an agent and advocate, which I found in the wonderful and dedicated Tamar Rydzinski. Without that first small press editor believing in my first book, I don't know if I would have had enough courage to submit The Family Izquierdo again, which was far less traditional and somewhat strange with its structure, but also its spiritual, mystical elements, family dynamics, mental health issues, and even humor.
Rumpus: Your novel very honestly and eloquently includes neurodiverse characters. Could you talk a little about your weaving this element into your narrative?
Degollado: I tried hard to get the details right. For anything I put down on paper, I believe this is a stylistic and moral imperative. I'm no expert in the area of neurodiversity, but being an Autism dad, it's a subject I have experience with and wanted to see addressed in this book. And hopefully, I've gotten it right. One character, Teddy Ramirez, who you see as a child, and later as an adult, is on the Autism spectrum, though this is never explicitly stated. He is a neighbor to the Izquierdos, and in one draft of the novel, had his own story, which though it's not seen in the final draft, will be published in The Common in 2023. One of the things I wanted to show is how before they even had a word for it, or understood it, the Izquierdos were accepting of Teddy's differences, in much the same way people in the community and my family showed kindness to my own children. In one of the vignettes, Teddy's mother is at her wit's end because she wants Teddy to have a haircut, but all of the barbers in town have turned her away. Abuelita invites them over and Papa Tavo is able to cut his hair, with the help of his daughter Maggie, who later does the same for Teddy as an adult. Papa Tavo's kindness and gentleness was inspired by my amazing brother Nerio who was able to cut my son's hair when no one else could. I wanted to show how even without training or understanding of neurodiversity, this family with their caring hearts are able to show love to someone with Autism, and hopefully, inspire others to do the same.
Rumpus: Spiritual and mystical experiences run throughout your novel. As a writer who also explores such elements, I was delighted to see this in your book. Without any spoilers, could you share with us your thoughts on including the spiritual and mystical in your novel?
Degollado: I come from a large family where faith and religion are very important to us as a whole. We are Catholics, Charismatic Catholics, non-denominational Christians, and everything in between, but we are also storytellers. And for me as a writer, these two traditions have played a large role in my life and my stories. For us, and I would argue many Chicano and Latino families, the veil between what we see and what we don't see is very thin. Stories of a supernatural, spiritual, and mystical bent are as common as hearing the latest gossip, and these are firsthand, sometimes secondhand accounts. For me, it is actually harder to write a book that is grounded in realism, as that is not how I see the world or how my family sees the world. People will read my work and possibly think that I'm just using these elements to tell an interesting story, or maybe paying homage to the magical realists. And though I want to provide an engaging read, much of what you are reading is—as my author's note in The Family Izquierdo states—based on family lore, in our familial, biblical belief in good and evil combatting each other in the spiritual realms, which we are sometimes given a glimpse into.
Rumpus: Are there any particular writers who influenced you in the creation of The Family Izquierdo?
Degollado: This is such a big question as there have been so many, but I'll name a few, some of which you may find surprising. For the inclusion of spirituality, modern day saints, and religious influences on the lives of my characters, María Amparo Escandón's Esperanza's Box of Saints, Ana Castillo's So Far from God, Luís Alberto Urrea's The Hummingbird's Daughter, Oscar Hijuelos's Mr. Ives' Christmas, Ernesto Quiñonez's Taína. For large family dynamics, Mario Puzo's The Godfather and Urrea's The House of Broken Angels. For writing about a particular place in stories, Rion Amilcar Scott's The World Doesn't Require You, James Joyce's Dubliners, and Sherwood Anderson's Winesburg, Ohio. For writing a literary work from the perspective of characters of faith, John Irving's A Prayer for Owen Meany, Kelli Jo Ford's Crooked Hallelujah, and all of the writers of the Bible. There are so many more and I could go on and on!
Rumpus: Have you received any responses to your novel from readers?
Degollado: I've heard lots of responses, and the reception for the book has been a bit overwhelming, but in the best possible way. A recurring theme is how, despite not all readers being Mexican American Tejanos, readers have felt like they are a part of the family. The Izquierdos with their traditions, their quirks, and ways of seeing the world are so specific, yet [readers] are seeing themselves and people they love. I've often heard that they didn't want the book to end. For readers who do share my cultural and heritage background, they say they are being seen, not for the first time, but perhaps in a new way. These chapters are intimate, and I wanted the book to welcome readers into this family, to pull up a chair, have a plate of food, and share in the love of the family, but also experience their heartache. I've said this before in interviews, but I wrote The Family Izquierdo for everyone, but wrote it specifically for my people.
Rumpus: Are there any plans for a Spanish translation of The Family Izquierdo?
Degollado: I sincerely hope so, but this is mostly out of my control. I would love to see it in many languages, and as popular as the book is, my dream of having my work translated is the closest it's ever been. Spanish is such a big part of this book, and my inclusion of it was to be true to the characters, how they tell stories and talk to each other. To see it all in Spanish would be a dream come true.
Rumpus: Can you share an early experience where you learned that language and words have power?
Degollado: I spoke to students at my alma mater recently and told them how I got into college. As a high school student, I had vague aspirations to attend college. No one in my family had attended college at the time, so none of us knew the process. The Monday following graduation, my mother woke me up early and dropped me off at the nearby college, the University of Texas Pan American, telling me she would buy me tacos if I got in. I wandered around the campus, not knowing where to go, asking random people, "How do I get into college?" I did not use the words "register," "registrar," "application." I just kept asking this basic question. Finally, I made my way to the registrar's office. When I walked in, I was frustrated, sweaty, and desperate looking. The registrar sitting behind the counter, seeing me in distress, said, "Can I help you, míjo?" Hearing this word "míjo," a portmanteau of "my son" in Spanish, made all the difference. It gave me courage, made me feel cared for, and so I asked my question again. "You need an application," she said, and handed me one. She went over the form and explained the words and what they meant. The registrar gave me her name and reassured me she was there for anything I needed. Her words had power, and I learned in this moment that language has the power to encourage, edify, and inspire. It can also destroy, of course, but in this moment I learned its power for good.
Rumpus: You don't have an MFA. Obviously, you don't need one to be a writer. What did you do to enter the writer's life without a writing degree?
Degollado: When I first started out as a fiction writer, it was before the internet was prevalent and "online community" was decades away. I subscribed to Poets & Writers and dreamed about the literary life. So for years, for the most part, I was a solitary writer. I've always been in community, but with mostly non-writers, which I think has translated into my work as being a writer who writes with readers in mind, rather than writing for other writers first. An editor once asked me if I had an MFA, and when I told him that I didn't, he said he wasn't surprised. What he explained was that I was not writing as if I was going to be or had been "workshopped." It's "honest writing coming from you and you only," he said. It's only been in the last few years or so that I've started living a "writer's life," through Twitter mainly. There I've connected with other writers. We share work, help each other with edits. Mainly, we try to encourage one another. We meet up at festivals and I've been blessed to give craft talks at universities, including the Yale Writers' summer workshop. Maybe someday I'll get that MFA I dreamed about as a younger man, but for now I just want to tell my stories.
Rumpus: Can you talk a little bit about your publishing experience and any advice you have for the budding author?
Degollado: I know it's been said many times, but your writing journey is your writing journey. I went decades without getting a book published, but when it did finally happen, it happened quickly. You see others around you being published in reputable journals, winning awards and fellowships, getting book deals, and you wonder when it will happen for you. What I learned is that it will happen when and if it's supposed to happen. I still have never won a contest, gotten any fellowships or institutional support. I've just been blessed to have two books published. I'm a firm believer in timing. Don't give up and instead of focusing on what hasn't happened yet, focus on writing well, and for fiction writers, telling good stories.
Rumpus: Do you mind sharing any new projects that you are working on or that are on the horizon.
Degollado: A reader favorite from The Family Izquierdo is Maggie "Magic Fingers" Izquierdo. She's a hairstylist and a prophet with a healing touch who, as Kawai Strong Washburn in his review for The New York Times wrote, can "pull the darkest shadows from a customer's mind." A favorite from my first book Throw is Karina Galán, a teenage girl with a tragic secret who has adopted the gang name of Llorona, the Mexican folktale ghost who is condemned to roam along the Río Grande river, looking for the children she has drowned. I'm currently working on a third novel that brings these two characters together in a story of found families, the secrets we hold, and how we find redemption in letting go of them.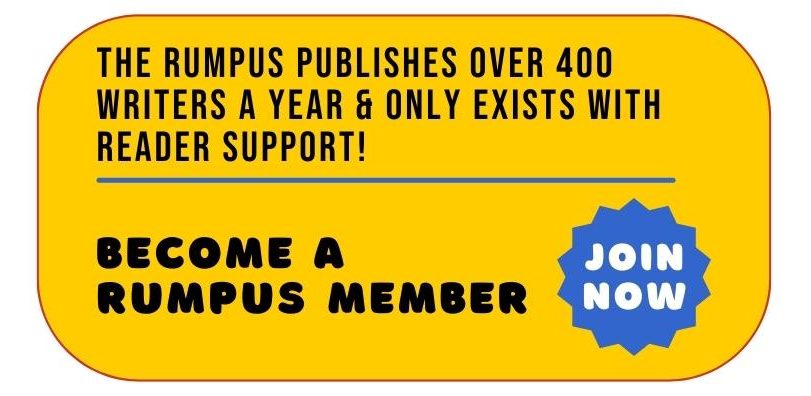 ***
Author photo by Saraí Mendoza