Adam Rosen is the editor of the anthology, You Are Tearing Me Apart, Lisa!: The Year's Work on The Room, the Worst Movie Ever Made (Indiana University Press, October 2022), a book about The Room (2003), a campy relationship drama that breaks almost every convention in film but nonetheless managed to become a cult classic. The Room is taught in film schools, frequently screened in theatres around the country (typically as "rowdy" screenings where audience members dress up, bring props, and call out lines along with the actors), referenced in other media, and has been the subject of other books, including The Disaster Artist, which was made into a 2017 film starring James Franco.
Adam Rosen is a freelance writer and editor based in Asheville, NC who first saw (and subsequently became obsessed with) The Room in 2009. He went on to host screenings of the film, wrote an wrote an article about it for The Atlantic, and develop a book proposal that resulted in his recently published anthology.
I wanted to talk to Rosen because when I first saw The Room as a film student, it was at someone's apartment and a drinking game was involved—I couldn't fathom treating the movie as anything other than a joke. I'm also an anthology editor who, like Rosen, published a trade title with a university press.
The process of putting together an anthology is, by definition, highly collaborative. You Are Tearing Me Apart, Lisa! contains essays by sixteen contributors in addition to Rosen. But we both agreed, while anthologies themselves are ubiquitous, resources for people who want to edit them are few and far between. There's a sporadically-active small Facebook group of aspiring and accomplished anthology editors and a few online courses specifically about anthology editing, but I struggled to find craft books that addressed anthology-specific issues. Rosen and I both had questions during our processes for which we struggled to find clear answers (I remember wondering how long I should have my submission period open and whether to approach well-known writers before I had a contract, to name just two).
I first became familiar with Rosen after he published an essay called "Why You Should Consider a University Press for Your Book," and knew I wanted to talk to him about The Room, publishing with a university press, the finances of editing an anthology, and all the work that goes into putting together an essay collection. I connected with Rosen on Zoom about a week before his book came out in October.
*** 
The Rumpus: I think if anyone is already familiar with The Room, it's because they know it as, like your book's subtitle says, "the worst movie ever made." Why did you feel like the film warranted a closer, more serious look?
Adam Rosen: That's kind of the million-dollar question: Why does this book exist? Isn't The Room just a joke? I really think pop culture phenomena, if you excavate it, can tell you a lot about a time and place, values, and cultural trends. To me, the film is such a naked, unabashed projection of creator Tommy Wiseau's fantasies about what it means to become an American. Which in this case is this wealthy guy, a banker, who lives in a city apartment with his sexy, stay-at-home wife. He has all these friends, he's adored. It's basically like the 1950s. It feels like this very aspirational fantasy of the country. [Wiseau's] an immigrant, so maybe that's how he perceived America growing up? What does that say about us that he has these ideas about our country?
It's more than just some silly, awful movie. I came across a professor who teaches the movie in a "trash cinema" class as part of her syllabus. More and more people are teaching it in film studies classes. One of my contributors is a film professor of the technical aspects of film and they look at The Room because it's such a good example of an amateur who was given a camera and didn't know what they were doing. It's easy for the students to relate to because a lot of them don't know what to do either. As he put it, they see themselves. They can see themselves making a lot of these mistakes. Maybe not in the really bizarre, absurd writing, but definitely in the cinematography things.
Rumpus: You wrote about The Room for The Atlantic almost 10 years ago. Aside from the article, what were some of the things that led to this book?
Rosen: I'm obsessed with The Big Lebowski, and [a few years ago] I discovered a book published in 2009 with Indiana University Press called The Year's Work in Lebowski Studies. And I was like, Holy shit, people are studying this stuff? It was revelatory. The book is serious but can be lighthearted in parts and still take the subject matter seriously through analyses of the movie. A few years later I picked up a similar book about Curb Your Enthusiasm. Around 2018, I was still obsessed with The Room, and the movie The Disaster Artist had just come out in 2017. Clearly, there was a lot of interest in the movie. It was all over the place. So I pieced together a proposal and sent it out.
Rumpus: So ultimately you ended up with the press that published the book that inspired you! Was this a case where you just felt like you knew where your book would fit?
Rosen: At the end I was like, It took a year to get here, why didn't I just reach out originally? Maybe subconsciously I didn't want to be rejected by them right off the bat because, since they seemed like the best fit, then what? Or maybe I thought because The Disaster Artist was so hot, an agent would see market value there. I came up with a list of potential agents and sifted through people I thought were more inclined with essay collections and pop culture stuff.
It was sort of a chicken or the egg situation because they sort of want you to have a list of potential contributors, but I didn't want to contact anyone about a potential book when I had no idea if it would be picked up. I didn't want to get into the issue of payment and stuff like that when I just didn't have those answers yet. When I eventually got back to Indiana University Press, they wanted more of a formal approval from reaching out to people. I realized that I should've just gone ahead and contacted people for tentative approval to begin with, but that's okay. In fact, twenty-five to thirty percent of the contributors I originally contacted ended up withdrawing. They said they had nothing to say or didn't want to do it. So I was scrambling.
Rumpus: How did you go about finding your contributors?
Rosen: I excavated every last inch of The Room-related internet. I started searching Google Scholar since I knew I wanted academics. I found a bunch of people who had mentioned the movie and even some who had published journal articles on it, so I contacted them. I also looked through different film blogs like Film School Rejects. I was looking for people who had something to say beyond This is the dumbest movie of all time. I spent hours and hours trying to find people who had written something interesting and original about it, and I recruited them from there.
Rumpus: What was it like working with your contributors?
Rosen: Once I found them, I'd make my pitch to them, develop their ideas, and make sure the pieces didn't overlap. That was tricky. A lot of times, I presented people with potential ideas to riff on, we'd go back and forth, and simultaneously I'm talking to other people, so I'd have to try really hard to make sure they're not overlapping. I'd say I did a pretty good job of it. There are a few essays that overlap maybe fifty percent. There's only a twenty-five percent overlap across the board, which to me is enough because it kind of connects everything but also lets people go in different directions.
Then of course there's the editing process. Some people took two drafts, some took four or five drafts to get it right. Frankly, I was pretty calm throughout the whole process because I know what it's like. I help people with proposals, and I've worked in publishing.
I feel like I developed relationships with all of them, and the contributors were based all over the world so if I go to their countries, I would definitely try to say hi, which is a really nice outcome.
Rumpus: I was wondering if you could share anything about the finances of your book? When I was working on mine, it was hard to find answers about money stuff.
Rosen: I knew I probably wouldn't get an advance, so people would have to do it either as a labor of love, or for an honorarium. I wound up offering everyone a modest honorarium because I wanted to give them something.
The nice part is you start earning royalties as soon as the book publishes. But it can be hard to devote so many hundreds of hours of your time to something without having seen any money. You have to have some sort of base you can dig into, whether it's time or a little bit of extra money in order to be able to do it. This isn't necessarily to put publishers on blast, because I know a lot of the academic publishers are really working on a shoestring budget. A lot of times they're losing money—a lot of them have missions that are more public service oriented than trade publishers. So it's tough all around. I'm not sure what the solution is.
For me, I sort of looked at it as a passion project. Clearly, I have an unhealthy obsession about this movie and wanted to discuss it with others. But it's also very complimentary to my career goals. I'm a freelance editor and I work with books. Having this title under my belt provides another level of accomplishment and credibility that, frankly, I can leverage for better projects and better rates. It's provided another level of confidence. Hopefully it's also a stepping stone to me doing another book in the future where there is an advance. The honorariums were a business deduction; I'm a freelancer. I could afford it because of my other work. I still think the long-term benefit is worth it.
Rumpus: What kind of freelance work do you do?
Rosen: I've worked in-house at a trade publisher and then I got into academic publishing, and then I became a full-time freelancer. I mostly edit non-fiction books: line editing, developmental editing, manuscript evaluations, stuff like that. The rest of the time, I'm writing. Either ghost writing blogs or books. And occasionally—very, very rarely—doing stuff for myself. To be honest, I don't do enough fun creative writing for myself, which is kind of a bummer. I have two kids, and expenses and bills, so it's harder and harder to find that kind of time.
Rumpus: I like how you clarified what kind of editing you do. A lot of people who aren't in the book world don't necessarily know everything that goes into being the editor of a book. You're not just taking a red pen to the typos—you're conceptualizing the collection and curating the essays. You're not just making a book; you have to be a salesperson, a marketer, you're taking on a lot of roles. There's a lot more of you in your book than it might seem considering the essays aren't all written by you. How would you describe your editing process?
Rosen: Editing involved finding contributors, pitching the book, revising their work. And spreadsheets upon spreadsheets. When's the last time I talked to this person; what's the topic we're working on; when are they going to turn it in; has it been approved; how many revisions has it been through?
It's just an enormous amount of work in putting it together. I think I sort of knew what to expect which is why I think I asked for an additional three or four months beyond what I thought I'd need. I thought I could do it in six months, but I told the press ten. I anticipated people might miss a deadline; I'm a writer, I occasionally miss deadlines too. I just knew to pad in a lot of time. Especially with so many moving parts here, it would require even more.
That's not even going into the art permissions, which I had to do myself too. That took a really long time. The nice thing is that if you take a still from a movie, it's considered fair use if you give credit. The bulk of the pictures in the book are stills. But I also used a lot of memes, which required going down some strange rabbit holes to figure out who to credit.
I've been doing a ton of the marketing stuff myself. More and more books are being put onto fewer and fewer publicists, especially at university presses, where budgets are tight. A single person might oversee dozens of books. And they certainly work really hard, but there's no harm in authors advocating for themselves. I'm trying to get on podcasts now, and I'm also doing some articles. I'm trying to build in an hour a week just for pitching and hoping something sticks.
I think because I've worked in publishing, I have expectations that are realistic and modest. I'm excited, there seems to be some interest and I'm really happy to follow it and see where it goes and do my best. I think you try to write a book you think is good, and then try to market it and publicize it as best you can, and a lot of it is just luck.
I don't even want to count how many hours I've worked on it. Most of the time I enjoyed it. I love the movie, I loved delving into the topics. I would sometimes get these endorphins rush looking at these really smart, funny, really enjoyable analyses of a movie. It's been a real pleasure.
Rumpus: Would you do another anthology in the future?

Rosen: Occasionally I'll get a jolt of inspiration, but I just don't know. I think I'd have to be just as obsessed with a topic because you live with it for years.
Rumpus: You already mentioned a few anthologies that were models or inspiration for yours, but I'm curious if there are any others that you admire?
Rosen: Honestly, I think I read fiction anthologies more than nonfiction! I love Akashic Books's Noir series, each of which is set in a different city, state, or country. The stories are even more granular; in the Baltimore series, which includes short stories from Laura Lippman, David Simon, Sarah Weinman, and others, each story is set in a different neighborhood.
As far as nonfiction, I'm a big fan of the Popular Culture and Philosophy Series, especially Curb Your Enthusiasm and Philosophy. I also love New York Stories: Landmark Writing from Four Decades of New York Magazine. Obviously it's a collection of previously written pieces for the magazine, but I love how varied the pieces are, stylistically and content-wise.
I love a deep dive on a single topic, I'm sort of a sucker for that. I love the 33 1/3rd books, too. I find that's a really interesting way of focusing on something and making sense of it.
Rumpus: Do you know if anyone involved with the film is aware of the book?
Rosen: In my Twitter profile, I wrote that I was writing a book about The Room and I tagged their account. [Actor and writer] Greg Sestero started following me on Twitter a few weeks ago, so I think he clearly knows about the book. I'd love to hear his thoughts about it. I assume Tommy knows. I hope that he will check it out. The book certainly isn't critical, it's not a pile-on fest. The writers are paying tribute, or respect, to the film in different ways. A lot of the analyses are generous and thoughtful. I don't think he would see it as everyone crapping on him.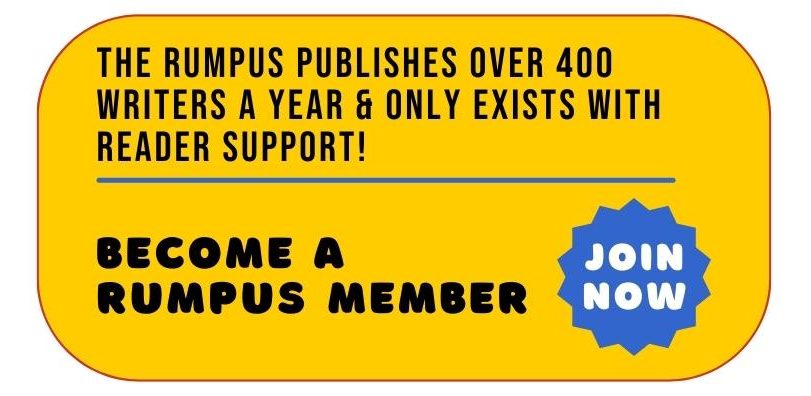 ***
Author photo by Aaron Dahlstrom