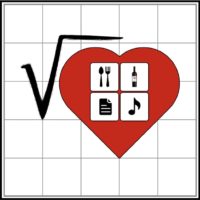 SquareRoot of Love: A Wine and Words Dinner
"Life without love is not life at all." – Leonardo Da Vinci
Ten years ago, in 2010, I introduced SquareRoot of Love as an installation in New York City. This installation was a duet exhibition and performance with the incredible artist Karen Finley. Since then, this project has traveled on to Sarasota, FL and Paris and back, engaging the product space of love through the interconnecting art of poetry, performance, food, and wine.
In 2017, the project landed on Valentine's Day in Paris, the city of love, as a way to challenge this Hallmark-created holiday to go beyond the banality of commercialized romanticism to a deeper space of connection and reflection. This first show featured a film screening, and readings from notable local poets at Berkeley Books in Paris, alongside a wine project, a Bordeaux blend coming out of a collaboration with a small vineyard in the famed town of St. Emilion, France. In 2018, SquareRoot of Love: Politics and Power events were held both at the Bowery Poetry Club in New York and at Culture Rapide in Paris. The Paris event, occurring on Valentine's Day, occurred at the same time as the horrific high school massacre in Parkland, FL.
With this in mind, SquareRoot of Love: Broken Heart, in 2019, was dedicated to the victims and survivors of the Parkland shooting with events in Sarasota and Paris. For the event, I created an open letter animated video to Senator Rubio calling for more gun control. A local Sarasota TV station promoted the performance and showed parts of the Dear Rubio letter in the background.
The Florida show included performances by Joshua Nwankwo, Steve McAllister, Lois Betterton, Kathryn Pompey, Adela Sitton, John Sims, Dazery and KyleeliseTHT.
SquareRoot of Love: Broken Heart – Sarasota, 2019
The Paris show, co-organized by Kristina Vaughan and hosted by Ed Bell featured contributions by: Audio Visual Terrorism, David Barnes, Ed Bell, Global Network, Antonia Alexandra Klimenko, Cecilia Llompart, Rethabile Masilo, Fedorah Philippeaux, Camille Andrea Rich, Yann Rousselot, Moe Seager, Kristina Vaughan, Daniel Wilner, and Nina Zivancevic. I want to thank the contributors of both events for bringing their collective brilliant force of expression and clarity to bear in these most difficult times.
SquareRoot of Love: Broken Hearts – Paris, 2019
In response to the Broken Hearts theme, I created a piece called Unbreakably Breakable, that speaks to the capacity of the heart to regenerate and heal in time, with support with love.
After the heart has been broken, there is a need for reflection and food for healing and regeneration—food for the soul. This food as love repairs, protects, and grows the heart and soul. And if we substitute the word "love" with the word "food" in the above Da Vinci quote, it will ring true. If we add in drink, music, and the art of words and stories, it will ring even truer. The idea of love as a food, as art, as an energy source for the soul, is so important and foundational to life and community. Love, whether a verb and noun, a sugar or spice, in motion or stationary, requires many times over an expression that goes beyond the romantic to include ideas of connective attention, spiritual energy, community inclusion, and immersive conversation—leading perhaps to questions like: What is the square root of love? Where is the love in these complicated times? Where are the love stories that redefine the essence of being. And how can love, like food and drink, nourish and shape our sense of universal humanity?
In preparation for this year's event, the metaphor of food, fine wine, and dinnertime stories as a portal to connect, to reflect, and to love became a running theme. So, as artist-in-residence at The Rosemary, a local fine cuisine restaurant in Sarasota, FL, I made a trip to Tuscany with the owners George and Jessica Armstrong to Castello di Querceto to review and select wine for my wine project and wine for this year's SquareRoot of Love event. My presentation to the winemaker and owner of the vineyard, Alessandro Francois, a former engineer, was a meeting of like mathart minds and hearts.
In Florence, I walked the streets where Leonardo Da Vinci once walked, feeling the mathart presence of the Renaissance. I found a spoken word event where the exceptionally talented poet and singer Romina Diaz read the Italian translation of my SquareRoot of Love poem. I walked the streets of Rome with all its seductive film-like allure and powerful Roman history and heard my old friend and opera singer, Emilia Diakopoulou, vocally soar in concert. I waited hours in line to walk the Vatican and its miles of art. I walked the halls of the great Colosseum where the walls and sub-floors once swirled with inhumane blood and carnage. Such are the complicated intersecting stories of broken hearts, great scenery, food, wine, and art.
Now, I present to you SquareRoot of Love: A Wine and Words Dinner – 2020, at The Rosemary, Sarasota Fl, co-sponsored by the MezzaCorona. The event is a multi-pairing of fine cuisine, wine, words, and music for this Valentine's Day. I have invited George and Jessica and The Rosemary to create a four-course menu that responds to the super Tuscan Italian wines, and the theme of love and food as inspired by our trip.
The evening will begin with a champagne reception. Each course will be introduced by wine from the Castello di Querceto, with words or music from one of our following special guest Peter Meinke, Poet Laureate of Florida, Charlayne Hunter-Gault, journalist and civil right pioneer, concertmaster Daniel Jordan of the Sarasota Orchestra, and Michelle Giglio, opera singer. The Scarlet Strings Quartet will accompany each course to completion.
Here we preview some of the work that will be presented for the SquareRoot of Love: A Wine and Words Dinner – Sarasota program from Peter Meinke and Charlayne Hunter-Gault:
Kitchen Sink with Cliché
Our kitchen sink stands alone
in dignified homeliness workworn
and modest in the scheme of things
though it's seen love among the strings
of sausages and chicken bones
The faucets leaked loneliness one June
but splashed wild laughter when you came home
with corks and corkscrews tumbling in
our kitchen sink
Looking back at fifty years of poems
an old friend told me that I've thrown
everything in them but the kitchen sink:
zinc fingers night trains secret codes angels drink…
Well time to atone—Behold
our kitchen sink…
– Peter Meinke
The Poet Proposes to the Artist
'Marry me' he said. 'We'll live
where olive trees crack their narrow arms
and the moon sings to splintered gates
like a chime of vesper sparrows'
I'll never marry she thought
till I paint my dreams
with my heartbone's pain
and do it all alone because I know I can
'Marry me' he said 'and I'll build
a home for you against the wind
lifting each stone with my own hands:
You can be safe and warm as any queen'
I'll never marry she thought
because she never said these things
till the vision within me is blurred
like an old print in the rain
'Marry me' he said 'and I'll give you
a child to mirror our hearts' affection:
the purest part of both of us
and your best work of art'
I'll never marry she thought and half-smiled
but my lonely fingers burn to trace
a cheek and my heart's wild
'I'll hold you now tonight' and take your child
– Peter Meinke
Solid as a Rock!
So…
There is a song that goes:
I found love on a two way street…
But I never sang it cause
The love I found was not to that lyric or that beat
Cause I didn't, as the song goes,
Lose it on a one way highway…
No,
I found love in the District of Columbia morgue
And did it my way.
Yes, I was reporting on an inquest laid bare
What The community had said
Was a poh poh bad
In its 2nd shooting of a brutha
In the hood.
That wasn't good.
And my future son's dad
Was the Justice Departments lad.
So not long meeting
in the DC morgue…
He was invited to my kitchen
Not thinking about just grits.
No…
After filling him with my good cookin'
I filled him with …
No…!!!
No tell-ie!!!!
So…
After a three years of practice
48 years ago we stood
In a place that was good….
On the Rock of Gibraltar.
And not at an official altar
The witnesses …
The Island 40 monkeys!
But the Rock's Justice of the Peace,
Was how we got legal. …l
And ended up, so far,
With plus 48
After our very first date.
And despite that bit of hyperbole
It's still him and me
And As another song goes:
Solid…
Solid as a rock!
– Charlayne Hunter-Gault
I would like to thank all of the contributors over the last ten years for your work and support. I would like to thank George and Jessica Armstrong, The Rosemary, MezzaCorona and all of the participants of SquareRoot of Love: Soul Food Searching. And, special love and thanks to The Rumpus.
This event will be live-streamed here.
More information about our 2020 SquareRoot of Love participants:
Peter Meinke is an American poet and author. He has published eighteen books of poems and short stories. The Piano Tuner won the 1986 Flannery O'Connor Award for Short Fiction. His poetry has received many awards, including two NEA Fellowships and three prizes from the Poetry Society of America. His work has appeared in the New Yorker, Atlantic Monthly, Poetry, and other magazines. He is the current Poet Laureate of Florida.
Charlanye Hunter-Gault is an award-winning journalist and civil rights pioneer holding more than three dozen honorary degrees. During her professional career, she has worked in every medium, earning two Emmy Awards and two Peabodys and has worked for the New Yorker, NBC, the New York Times, NPR, the PBS NewsHour, and CNN. She is the author of four books and prior to her professional career, she was one of the two first Black students to desegregate the University of Georgia under court order. Currently, she is a Special Correspondent for the PBS NewsHour with a series called Race Matters, looking at solutions to racism.
Daniel Jordan is the concertmaster of the Sarasota Orchestra and the principal second violinist of the Santa Fe Opera orchestra. He was formerly the assistant principal first violinist of the Malaysian Philharmonic Orchestra in Kuala Lumpur, and a member of the New World Symphony in Miami Beach.
Michelle Giglio returns to her native United States following five years of concerts, tours, and recordings in France and throughout Europe. In the US, Ms. Giglio recently debuted in the role of Zerlina from Mozart's Don Giovanni with the St. Petersburg Opera and Florimezzo Orchestra in St. Petersburg, FL. She also performed with the Center City Opera in PA, where she sang the role of Curly's wife in their production of C. Floyd's opera Of Mice and Men, as well as Violetta in AMICO's Production of Verdi's La Traviata in Anna Maria Island, FL. Ms. Giglio also performed at the Metropolitan Museum of Art in New York City.
The Scarlet Strings Quartet is a subset of the State College Florida Presidential String Octet. The members of the group are Daniel Williams (first violin), Aaron D'Zurilla (second violin), Loryn Carpenter (viola) and Marcus Anderson (cello).
***
Photographs and videos provided courtesy of John Sims. Photograph of SquareRoot of Love: Broken Hearts – Paris, 2019 by Lisa Cipriani/L'Impasse.
---